My breath fogged the air and the plants outside of my apartment were shimmering with a light frost this morning when I left for work. It was also the first morning I've had to break out the trusty ice scraper to do battle with that same frost, tenaciously clinging to my windshield. Ice scrapers are a sure sign that it's time to break out those "serious" sweaters that I've had packed away since Vermont. Oh how those sweaters kept me toasty!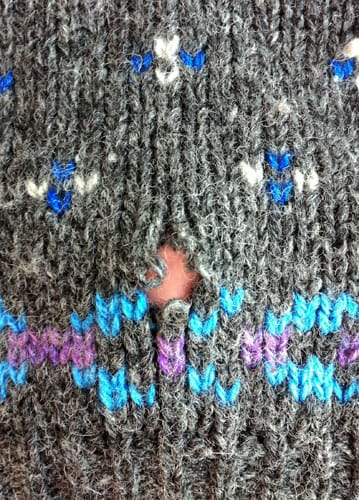 Unfortunately it looks like two of my favorite sweaters have met with the dreaded wool-nibbling moths! I was able to poke a finger through all four holes. After frowning for a moment and pledging to make some little sachets of cedar shavings, I brightened up a bit when I realized that the new Full Circle Roving had the perfect colors to repair both sweaters without any fuss at all! 
I've never been able to make nice, neat repairs using yarn… especially when it comes to store-bought sweaters with their teeny tiny fibers. Instead, I always reach for a snippet of roving and my trusty needle felting tool, even with a bulky sweater like the one in these photos. I think Full Circle is the perfect roving for repairing knit fabric because each hank is slightly heathered which helps the mended area blend in with the surrounding fabric.
I was able to repair my sweater with a little bit of roving in three minutes at my desk (less time than it takes to get tea from the kitchen!). I picked Quarry because the dark, rocky grey matched the grey of my soon-to-be-hole-free sweater almost perfectly. I turned the sweater inside out and slipped the foam block that came with the Clover Needle Felting Tool behind the hole. Then I layered enough roving over the hole so that it extended past the hole edges by 1/2 inch and thick enough so that I couldn't see the bright white foam block through the hole. Then, using a single felting needle I started felting from the center of the roving, outward until I had created a firm fabric out of the wool. I turned the sweater right side out and used my needle to clean up and stray roving and voila! A nice repair job that even I have trouble seeing, and I know just where to look! Can YOU spot the hole?
Need a place to start? We have an online tutorial for needle felting sheep that shows you the basic techniques of needle felting. The first few steps of the video are very similar to the first few steps I used to repair this sweater!