During this really stressful year, I've rediscovered my love of The Sims, a game I played a lot several years back but hadn't been keeping up with. I downloaded it on a rainy day in April and fell in love with it all over again—if I can't go out, at least my little Sims can. In a funny bit of timing, a brand new game pack was released in July that was right up my alley—Nifty Knitting!
For those unfamiliar with the game, The Sims is a life simulation video game, first created 20 years ago. You can create little people (Sims) to direct around, giving them jobs and hobbies and creating relationships with other Sims. You can also build and decorate houses and businesses, plus so much more. I love it, as there's a bunch of different ways to play—sometimes I'll just build and decorate houses, other times I'll create a story line for my Sims to follow.
Every few months, there is a new "pack" released—with new content like new worlds to build or play in, new items for homes or for creating Sims, and new jobs and hobbies, such as in the Nifty Knitting pack. Obviously I had to buy it—I had to get my little Sims to do my favorite hobby too!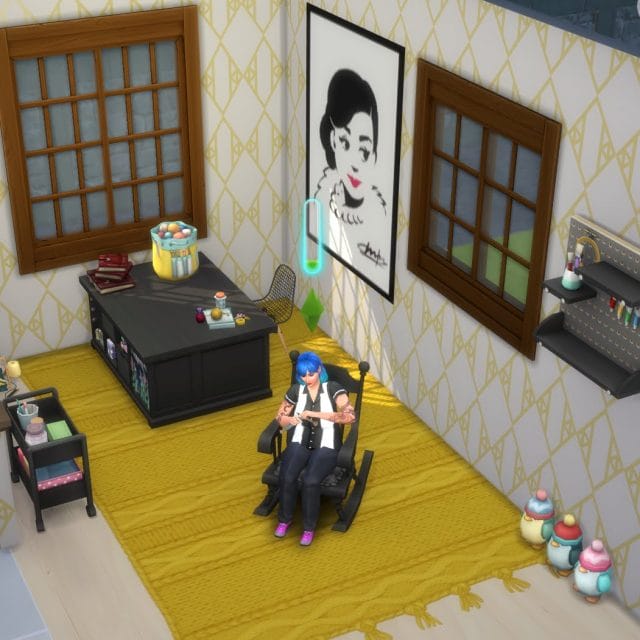 I've been having a lot of fun with the game, and it's obvious they had someone working on this project who is a yarn crafter—things like "frog" and "WIP" are both terms used, and the projects themselves are really cute (hats, socks, toys). There's even a "sweater curse" warning when one Sim gifts a sweater to another one. It's silly and fun, and I just love it.
In fact, the Craft Yarn Council has partnered with The Sims to celebrate the release of Nifty Knitting! They've had several episodes of "Sims That Knit" on IGTV and gave us here at Knit Picks a challenge—to create Sim versions of our staff and a dream office space. Naturally, I had to take them up on it! It was a lot of fun and a certainly learning experience, since I usually just build stuff just for myself.
Watch Sims That Yarn + Enter Giveaway
Head on over to Craft Yarn Council's Instagram to watch an episode of Sims That Yarn featuring our Knit Picks office, as well as enter a giveaway for a Nifty Knitting code + a Hue Shift Afghan kit! (Giveaway ends Friday, 9/18/2020 at 10am CT).
Back to the Build!
First I did our staff, which actually made me a little sad since I haven't actually seen most of our team since March! Here's what I came up with, though to be honest, likeness varies from person to person—I'm just not the strongest on creating Sims, though I do like to dress them.
Then I did a version of our "dream office". I made a little knitting loft for our knitting breaks.
Then I needed to create our work area—we need computers to keep our site going!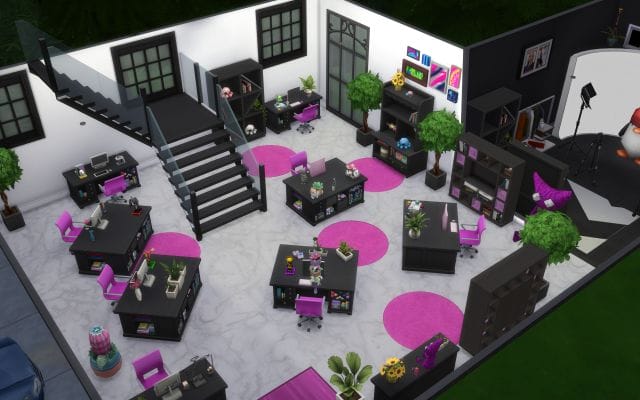 Finally, since I added a couple of our fabulous photographers to our staff group, I decided to build them a little photo studio too, complete with a knitted model.
Then we had a dance party!
I'm so glad the CYC gave me this opportunity, and I hope you enjoyed this little look at what I wish our office looked like! If you are a Simmer like me, you can even download these for your own game. They can be found on the gallery by searching for my ID BabblingStacey.
(Please note the staff household lists a bunch of different packs (mainly because of all the different clothing options), but the main outfits uses Cats & Dogs, Get Together, Movie Night, Get Famous, Vintage Glamour, Laundry Day and Perfect Patio. The office uses several packs too. Before adding the lot to your game, you will need to turn on the "move objects" cheat code, plus you will need to download some custom content. First, a fun little IKEA Home Stuff pack, found here and of course our logo sign, which you can download here. For more help on adding custom content, there are a lot of great guides out there, such as this one.)