Fall is in the air…cozy pullovers, gift knitting, and endless cups of warm spiced cider are on the horizon. If you're not quite ready to say goodbye to summer and need a little nudge, our latest batch of fiber creations and exclusive patterns are just the ticket to get you in the fall mood.
New Wonderfluff
I'll go ahead and say it—I think we could all use a little more fluff in our lives. If you've ever had the opportunity to touch a ball of Wonderfluff, you know that the magic of this bulky weight baby alpaca/Merino wool/nylon blend yarn is REAL. The loftiness is top notch and the squishiness is off the charts! I love this magnificent marvel for oversized, face consuming cowls (no joke), and extra warm hats for my kiddo. With an added array of 6 new candy coated jewel tones, this plush wonder is even more enticing.
New Static Sock Yarn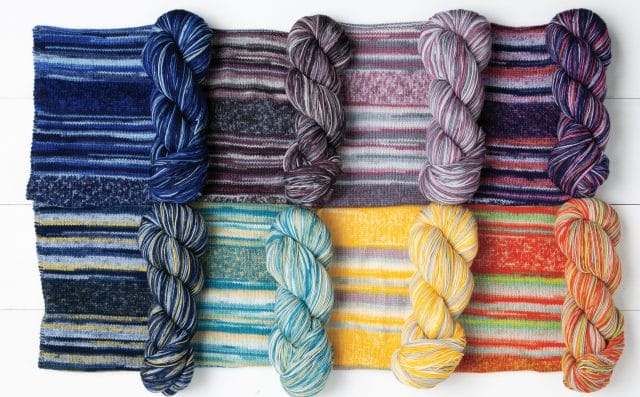 If you're looking for unique & colorful hanks to to ignite your sock knitting inspiration, look no further than these 8 new colors of our eclectic self-patterning sock yarn, Static.
Bonus: Save 20% when you buy the value pack!
Stroll Tonal Mini Packs
We toned down the chromatic energy just a tad with these 3 new curated mini packs, opting instead for icy wintry blues, succulent greens, and stony greys. The perfect size for mini knits and easy care gifts! Each pack comes with 5 – 20 gram hanks, for a total of 100g.
New Pattern Collections
Pathways: Textured Knits
Textural designs made up of mostly simple knit and purl stitches, with a few slips and twists thrown in for good measure, combine with a range of silhouettes—from traditional to modern—in this collection of thirteen garment and accessory patterns. The perfect projects to keep you cozy company throughout the chilly months, whether knitting them or wearing them, these squishy knits are a classic addition to any knitter's sweater stash.
Merry & Bright: Wee Holiday Baubles eBook
This adorable collection of seven holiday items will help you decorate the tree and house with colorful knits for the holiday season. Ornaments, gift wrappers and sachets, mats for mugs or candles, and customizable bunting are all fun, small projects to whip up for special gifts or for your own cozy home!
Free Patterns
The first day of fall is next week (insert happy dance here)—are your cold weather accessories in order? Even if you're well stocked on comfy knits (let's not kid ourselves *wink*), there's no harm in adding a few more to your closet, right? Right.
Knit in Cousteau Chroma Twist Worsted
Knit in GoGo Boots Chroma Twist Worsted
Knit in Wednesday Chroma Twist Worsted
All 3 of these clever + cozy accessories patterns are FREE to download, and were designed by Emily Kintigh. You can browse all of her patterns available on our site here.
Up to 40% off all books!
Save 40% on all Knit Picks' exclusive titles plus 30% off all other titles. Whaddaya waiting for? Sale ends 10/13/20. Don't miss your chance to broaden your pattern library while saving big with this fantastic fall sale!