Have you seen our newest book yet? Block Party (available as a print book or eBook) is a collection of modular blankets, meaning they are all constructed of modules, or blocks, or pieces, which are either knit together as you go, or seamed together at the end, or some of each. There are a wide range of blanket styles, from modern to traditional, colorful to neutral, something for everyone!
Above, Rainflake by Mary Hull is a gorgeous rainbow of hexagons, which can either be attached to each other with picked up stitches as they are knit, or sewn together at the end, which makes this project the perfect best-of-both-worlds blanket! You can join as you go until the piece gets too large to comfortably work with, then start up a new chunk, and just sew the chunks together when they're all done. To the right is Pinwheels for Billy by Suzanne Ross, which is also a compromise kind of construction: each large square is worked in four triangles which are connected with picked up stitches as they are knit, and then the sixteen completed squares are seamed together at the end.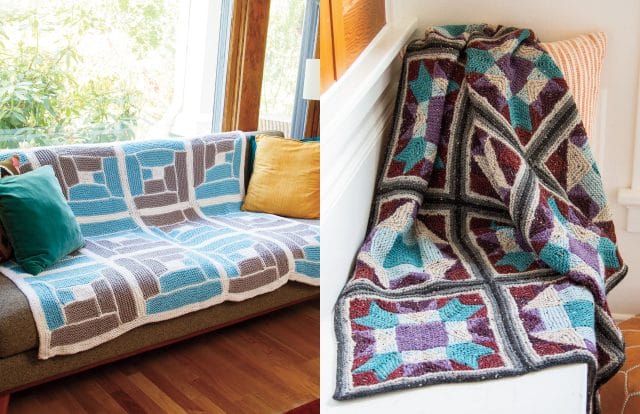 Above are two patterns which started as old Knit Picks patterns from long ago that were completely revised, refreshed, and reknit for this book! Outline and Traditions are both made similarly to Pinwheels above: large blocks are constructed out of smaller modules, and then the large squares are joined together once they're all finished. In the case of Outline, the modules are rectangles, making log-cabin designs, and with Traditions the modules are rectangles and triangles, pieced together like a traditional quilt pattern; in both cases the small pieces are all joined together with picked up stitches as they are knit.
Some other patterns in the book, on the other hand, are made completely seamless! Above, Flower Waves by Adrienne Larsen and Buffalo by Rebecca Minner are each made from modules which are joined with picked up stitches as they are knit, so the entire blanket is made in one big piece. Flower Waves is made of all triangles, constructed outward from the center, while Buffalo is made of mitered squares, starting at one corner.
Holli Yeoh has two patterns in the book, both of which are made this way, all in one seamless piece with picked up stitches, sort of! Flash Forward and Joinery are actually constructed by picking up just one stitch at a time, to knit long strips, one strip at a time, connected to the next one over as they grow.
These last two have different kinds of fun constructions. Squared by Hope Vickman is made from squares which are each knit in the round, from the center outwards, and then the live stitches around the outsides are joined to each other using 3-needle bind offs, for neat, easy seaming. Cloudy Day by Emily Kintigh is like a mash-up of the constructions of those top blankets and Holli's designs: each large square is made from four smaller squares; the first two are worked independently, and then the third and fourth are joined to the first two by picking up one edge stitch on each row as they are knit. At the end, the twelve complete large squares are then seamed together.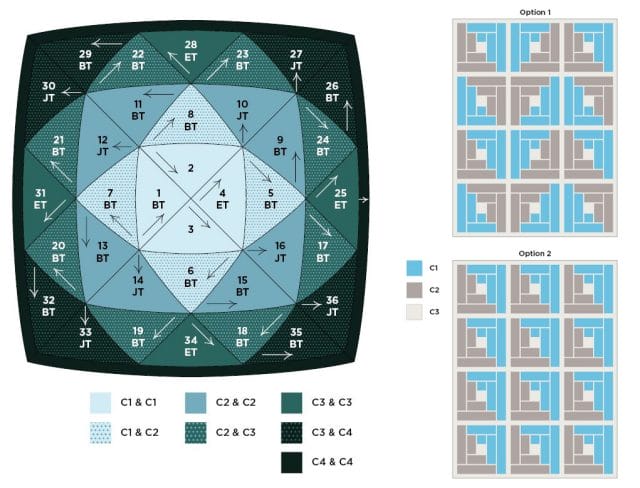 Does all this construction explanation seem intimidating? No worries, the patterns take it one step at a time, and they all include helpful diagrams to lay it out flat and see what's happening. Above are the diagrams for Flower Waves, probably the most complex in the book, and Outline, which offers two different design options.
Traditions uses two different block designs, and above you see both the full blanket diagram and the individual block diagrams. To the right, a completed block knit in different colors to try out the pattern in a new palette, just for fun! And speaking of different colors …
A final highlight of this book is that each pattern comes with a page of Color It Yourself! diagrams, so you can play with your own color ideas! There are two diagrams for each pattern, and the patterns that include multiple sizes with different numbers of blocks have those included as well. (Of course, if you want to get really creative, you can make any pattern with a different number of blocks, if you want it larger or smaller!)
We would love to see your blanket versions, and your coloring pages too! Please tag us on Instagram, and/or add your project to Ravelry with photos so we can all admire your personalized creations! Happy blanket knitting!