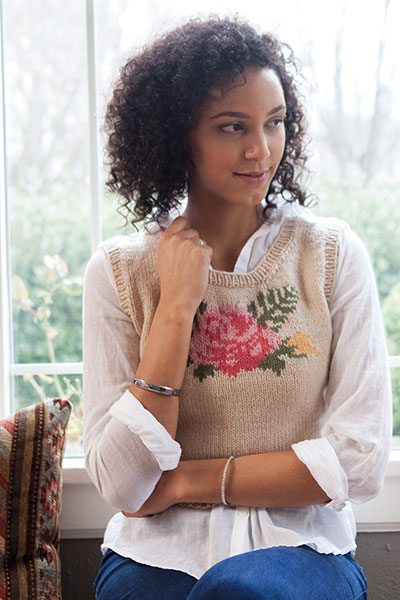 Spring is here! Are you ready for the start of gardening season? Whether you have a lush oasis planned out back, a small plot in a community garden in your neighborhood or a sole surviving rosemary plant perched in your kitchen, we have patterns to celebrate your green thumb! From cute to functional, you can put these knits together for a trip to the farmers market or pop them on before a hard day of weeding and harvesting.
First up, Andi Satterland's  Nosegay Vest. I just cast off and wove in the ends on my very own Nosegay in Wool of the Andes Tweed Down Heather and can't wait to layer it over my button up chambray shirt. Perfect for keeping my core warm while I root around in the muddy planter boxes, I'll be able to literally roll up my sleeves and get some hard work done without getting too chilly. With or without the flower motif, the shaping on this quick knit is lovely and form fitting.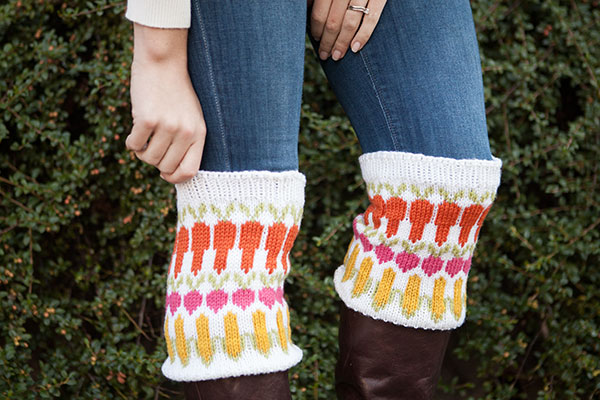 Knitting, crocheting, weaving, and spinning happen year-round, inside or out. Gardening on the other hand, occupies a beautifully brief window in the spring and summer. I've got my seed orders in, new garden gloves purchased and have a pair of Faye Kennington's Harvest Boot Toppers firmly placed at the top of my knitting queue.  Pair with a crisp pair of black wellies or green Hunter Boots and you're all set to get your garden on or a leisurely trip to the farmers market.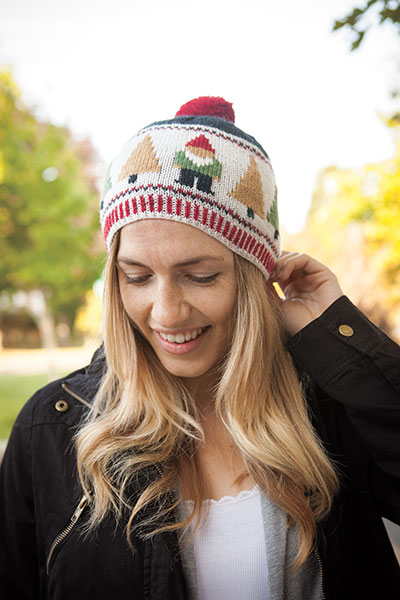 Tree, tree, gnome! A garden is incomplete without a wee gnome tucked away among the greenery. The Gnomeland Security is both super cute and cozy. I love taking a typical beanie pattern and adding a surprising motif into the mix as a little joke for myself. It's always a treat when someone else spots it too!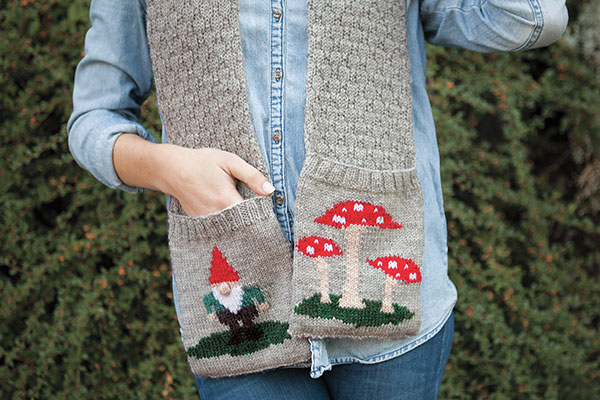 Lastly the Gnome and Toadstool Scarf will keep your neck warm and your hands cozy between bouts of spading and weeding. I love the simple stitch pattern for the body of this scarf and the clever, decently sized pockets at the ends. I could totally imagine tucking a few seed packets in there too!
Want more garden-knitspiration? Three of the patterns above came from our Charmed: Whimsical Knitted Accessories pattern collection and there are definitely more patterns in that collection that fit the theme of the day. Make sure to check it out for more accessories! Let us know what your favorite gardening-themed knits or super functional accessories you wear while pottering around in your very own garden in the comments!