With the warmer weather on the way, it's time for small lightweight projects. To get you started, it's time for our Sock Yarn Sale!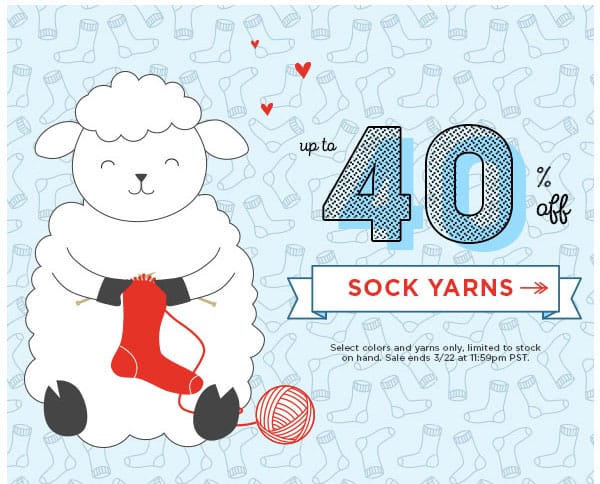 That's right – save up to 40% off selected yarns and colors! We have so many different yarns on sale, it can be a bit overwhelming, especially if you are like me and are trying to only buy yarn with a project in mind. (This resolution of mine is not working well, but I'm trying!) So I've gathered up some of my favorite patterns and colors to give you some inspiration.
First, I'm a sock knitter at heart and Hawthorne is my absolute favorite yarn. I've long had my eye on trying my hand at the Busy Bee Socks (free download!) so with Compass on sale, I think it's time to tackle it.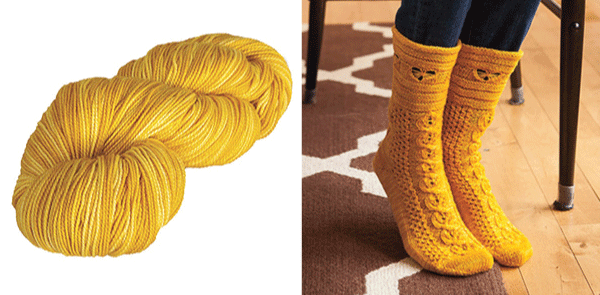 Stroll is such a beloved yarn here, whether it's Solid, Tonal, Tweed, Hand Painted or Glimmer – there's something for everyone with this supersoft yarn. If you need a sweet pair of socks to greet the spring days, you can't go wrong with the adorable Puddle Jumper Socks by Allison Griffith. And bonus, all three colors used are on sale!
But what if you are not a sock knitter? (It's okay, I forgive you.) Sock yarns can be used for so many other projects – sweaters, shawls, cowls or pretty much anything you can knit with other weights! Another favorite project of mine is the Oblique Cabled Mitts by Emily Kintigh. They're knit up in Gloss Fingering Cranberry, which is also on sale, and will give you a bit of warmth in an over air-conditioned office.
These are only the tip of the iceberg of the yarns on sale – be sure to check out the full list! But hurry, this sale only lasts until March 22nd – so get those orders in now!
Save