Welcome back to our colorful Dishie Multi! This cheery cotton yarn is perfect for greeting springtime weather, with the hard-wearing and durable yarn you love, but in brand new fun color combinations. Whether you need to refresh your kitchen with some bright new prints or want to make quick cheerful gifts, Dishie Multi is your go-to yarn.
With the seemingly never-ending grey skies outside, I needed some happy and bright projects to work on. So I grabbed a couple of my favorite colors and knit myself a few new dishcloths.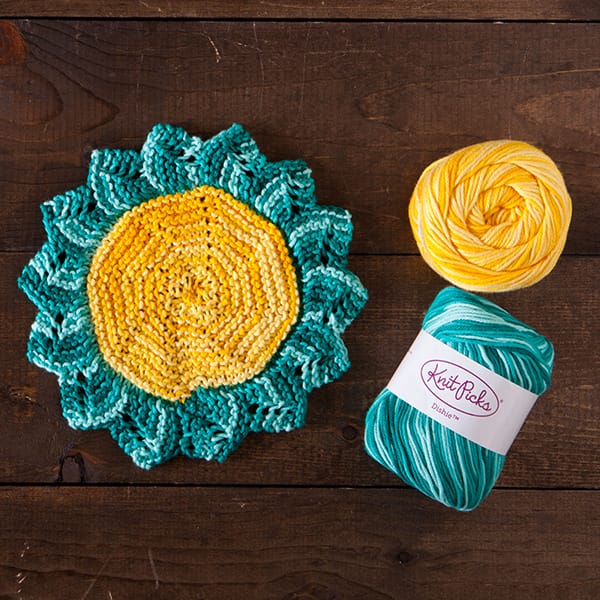 First I needed a bit of sunshine. Using our Starflower Dishcloth pattern, I whipped up my own version using Sunshine for the center and Aquarium for the edging. It was a lot of fun and I love how the tonal colors worked with this project – each of the petals has a bit of the lightest part of the skein to really makes them stand out. It wasn't intended but that's what I love most about playing with multi colored yarns – you never quite know what you'll get.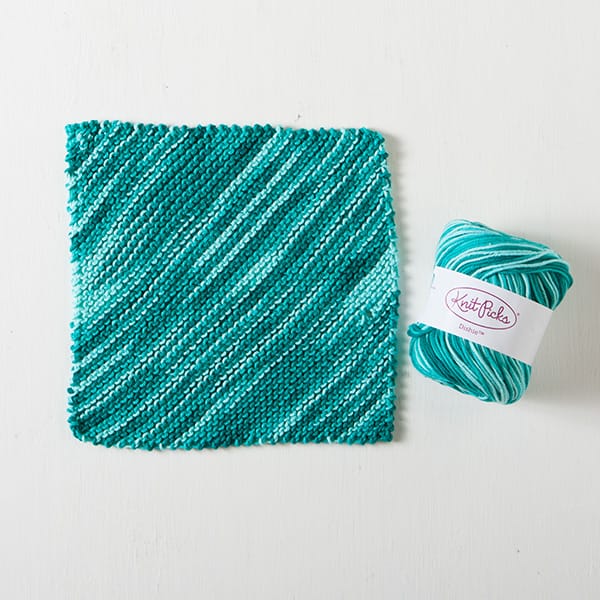 I've shouted about my love of simple garter stitch projects in the past, so when I found myself without a mindless project to work on while watching a movie, I cast on for a simple mitered square dishcloth (a variation of my Slant Dishcloth – I just didn't change to the second color). With multi colored yarn, often times you'll get pooling or big splotches of one color which many people do not like. There are many ways to break this up – I wrote a post a couple of years ago of different ways to work with handpainted yarns, which works here too. Happily, this little mitered square distributes the colors all over so there's very little pooling.  I am excited to see how a more colorful Dishie Multi skein would look in this pattern, such as Jingle for some holiday gifts or Jelly Bean to make me smile while doing the dishes.
Need more ideas? Check out all of our Dishie patterns! Have a favorite Dishie Multi project already? Leave a comment below!