Kerin is the in-house pattern designer for Knit Picks and is
one of the most talented knitters our company has ever had the
opportunity to work with. We thought that you all should get a chance to get to know Kerin the way
that we do, so how better than with an interview!  I hope you enjoy
getting to know our funny (and all-around-awesome) Kerin as much as I did. 
As many of our blog friends know, you are the pattern designer for Knit Picks.  This job requires that you know pretty much everything there is to know about knitting.  When and how did you learn to knit? 
My mom taught me to knit at about 5 years old – but she only knew a basic cast-on, the knit stitch, and binding off. Until I got to college, all I could do was garter stitch rectangles. Then a friend got a learn-to-knit DVD and loaned it to me. After I learned how to purl, the rest was cake. I haven't had empty needles for almost ten years now.
Wow!  You've been knitting for a long time!  At this point, it must be like second nature for you. 
It really is second nature – actually more like first nature. I don't quite feel right if I don't have knitting in my hands. It was actually my husband who first noticed that I could knit without looking at the work – it was only the second time I'd met him and he was commenting on my knitting – I didn't realize I wasn't looking. Now he loves to tell people how I knit in theatres during a movie, at concerts, at restaurants – everywhere! I used to knit on the bus and the train on the way to and from work, and now I look forward to long car trips so I have some solid knitting time. I've convinced him that I'm a bad driver, so I can get more knitting time. When I took up fishing, I quickly found that if I use a bobber, I can just leave my line in the water and get some knitting done while waiting for a bite. I rarely have an occasion to just sit and knit for a while, so I use any available moments. Everybody at the coffee shop knows what I'm working on!
That's so great.  Was knitting in the car where you came up with the idea for the Road Trip Totes?  Where else do you get your pattern ideas from?

I do love road trips. My husband and I travel all over Oregon, and the scenery is amazing – those trips were definitely inspiring. The concept of the totes was presented after I took a trip out to John Day Fossil Beds National Monument; we went on a breathtaking hike and I wanted to bring some of that awe home.
Most of my inspiration comes from nature, science and art. Yarn, to me, is an artistic sculptural medium, so all of the time I spent in the Museum of Modern Art is reflected in my work. I also sew nearly as much as I knit, and a lot of concepts from sewing make it into my patterns. I've written patterns that were inspired by Frank Lloyd Wright's stained glass, the Earth's magnetosphere, and unicellular organisms. I'm all over the place!
What is the process for designing knitting patterns?  You've got a pretty extensive background in graphic design.  Does that help a lot with the pattern development?
The process is rarely straightforward! I guess it depends on what type of thing I'm designing. I try to make my pattern writing as streamlined as possible, so for techniques I use frequently I have a document full of tested 'pieces'.   If you look at several of my patterns, you'll see that the wording is nearly identical in many places – I know I've already thought about that part, figured it out, and it worked. By borrowing from my other patterns, I have more brain left over for the fun things that make each pattern different.
When it comes to the really intricate things like jointed crab legs or the sepals of a columbine flower, I knit the thing myself to be sure it's just what I want. I just cast on and write it out line-by-line until I'm done.
Overall, every pattern begins with sketches, diagrams, and math. A measured and weighed swatch and algebra give me all of the proper stitch counts, and then from there I make the pattern match the original concept sketch.
Graphic design experience definitely helps. Since I have illustration and layout experience, putting the pattern together, making charts, and illustrating tutorials isn't a problem. I learned to be very resourceful in my college classes, and I draw on all of that knowledge when I write.
Where and when did you get your start with pattern design? 
As soon as I cast on my first stitch. I had a vague notion that there were patterns out there, but my mom couldn't read them and neither could I. My grandma never used patterns for her crochet. So, I completely made it up as I went along. I can remember studying a store-bought sweater inside and out, trying to figure out how it was put together so I could copy the technique. After my 'knitting renaissance' in college, I started knitting sweaters, vests, argyle socks, and just about anything I could think of (without patterns, as it simply didn't occur to me to try) and learning something new each time. Oddly it was a folklore class in college that eventually led to me learning to 'read' knitting – and then start writing down what I was doing. My first published pattern came while I was working for a LYS in Portland several years ago, and I've now written over 100 patterns.
I would imagine it's tough to think of patterns that will appeal to a broad group of people.  Do you ever struggle with that?
Yes, though it's easier now! When I first started with KP, the decision-making process for patterns was completely different. I think trying to please everyone really saps your creativity pretty quickly, so at one point it was decided that I should write one pattern that was really 'me'. That was the Nonna's Garden shawl.
Since then, we've gotten to know our customer base really well, and now focus more on the fun sorts of projects that show more personality. After all, more knitters are going to be inspired to knit something if it's obvious that the designer was really excited about designing it – and that's the appeal I aim for in my patterns. Not everyone will like everything, and that's totally ok with me!
How many stitches do you think you've knit?  Do you have any knitting goals for this year?
I'd say probably at least ten million stitches in my knitting career; I'm on track to do about a million this year. It's really impossible to know for sure, so that's just a guess! This year I have so many goals it's not even funny. The biggest of them is the '111 in 2011' challenge – start and finish 111 projects this year. Of those, I've decided 20 will be pairs of socks (adult size in sock yarn), 12 adult-sized sweaters, and 11 sewn articles of clothing. So far I'm up to 55 knitted projects, including six pairs of socks for me and four sweaters. But, I've already sewn 12 articles of clothing, so I'm way ahead there! I have an unreal stash of yarn and fabric, and I'm trying to use up as much as I can. If you remember, I wrote a post back in March about the progress I was making with my resolutions.  At that point, I had finished 26 projects (shown below).  I will keep plugging away and keep you posted on my progress.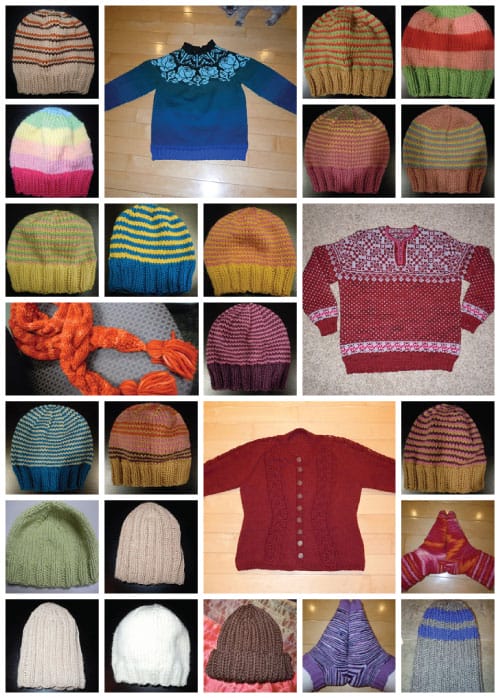 I also try to make a donation to charity every month if I can. Most of the projects I've knit this year, in fact, have already been donated – 41 of them. I love knitting for charity because the projects are usually small and I can use scraps from other projects. I can knock out a couple of baby hats or a pair of woolly kid socks in a day, so I get my instant gratification and I know I've done something good for someone. It's a win-win!