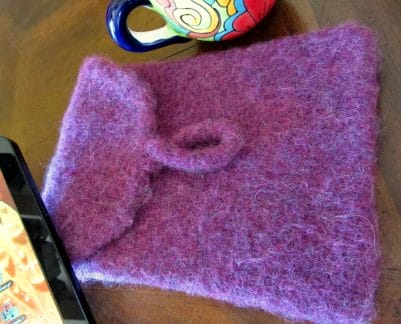 I love my Galaxy Tab that I bought last autumn. It's the size of a Kindle but since I bought one as soon as they were available, there were no nice covers available. Just a utilitarian, black ugly thing. Ugly enough for me to take it off the Tab after just a week.
The problem was that I wasn't comfortable toting the Tab around without a cover. As I looked at the leftover yarn from my Merryall Cardigan, I realized a felted cover in that lovely, Wool of the Andes Amethyst purple would be appealing. Bob just returned from a two-week business/golfing with friends trip. That meant I had evenings all to myself to watch through all six series of Jordan's Crossing. 
I curled up on the sofa and used Judy's Magic Cast-On to begin at the bottom. I cast-on enough stitches to be roughly an inch too large on each side. I knit until my small bag was about too inches too tall. I cast-off half the stitches and then used a backwards loop cast-on to add three stitches for a built in i-cord along the edge over what would become the flap.
I knit the first three i-cord stitches and purled to the end of the flap stitches. Using the backwards loop cast-on again to add three stitches to form the i-cord on the other edge. I knit for about two inches and then began to decrease on the knit side. A K2tog on the right edge after the i-cord and SSK before the other i-cord.
I didn't want a pointy flap so I stopped decreasing after a few rows. I cast-off keeping the i-cord going. Halfway across, I knit just the i-cord for about three inches. This would form the button loop later. Then I continued to cast-off the rest of the flap stitches, keeping the i-cord.
Then came the felting! Hot water wash, cold water rinse. It took four cycles before I felt like it was time to stop. I let the cover dry overnight and slipped it over my Tab the next morning. Just a tad too large. One more cycle of hot and cold. I shaped the button loop into a delicate curl as the cover dried a second time. Finally, a perfect fit!
You didn't think I was going to leave my lovely case just plain purple! I'm exploring Mexican embroidery designs to work with a few colors of Palette that I have in my stash.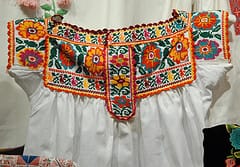 If you have any embroidery tutorials or books to suggest, I would appreciate your help.