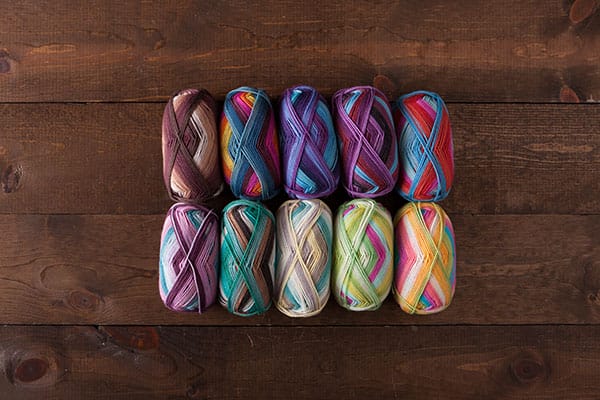 Felici has taken on a life of its own because of its enthusiastic fan base. The limited colorways and amazing softness of the Superwash Merino wool/nylon blend make this sock yarn hard to resist and add to its mythical status. The colorways are top secret until they are released, but we thought we would give you an insider look to how Felici gets made.
PS It's back in stock so get your value pack now!
Development for Felici takes some time. First our graphic designer aka color genie, Heidi, puts together dozens of colorways for us to choose from based on current palette trends in fashion, design, and general life inspiration. We then vote by committee. These can be heated debates as we each all bring our own color eye to the table. Then it's off to our mill in Italy, where they run the color tests and send us back samples. This could take a few tries as seeing the actual colors on the fiber verses print outs on paper can vary wildly.
The best part is when we have our final approved picks and we get to name them. That is always a good time as the color inspirations bring up topics like nature, pop culture, and of course, literary references. Even a secret reference or two:  Beyond the Wall or Baker Street anyone?
The hardest part is waiting for it to be produced and make its journey across the Atlantic to our warehouse. If you think you're anxious about its arrival, you should see our nails!
From its initial color conception to the final result there are some shifts and happy accidents as is the nature of fibers and dyes in the handmade world. And that is what we love about yarn!