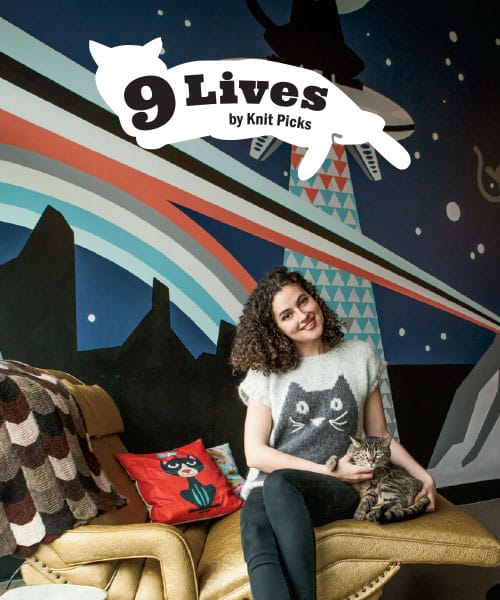 You guys. Have you seen the new 9 Lives pattern collection?! Our latest pattern collection, is a celebration of cats and the people who love them. The planning meeting was so much fun and you should have heard the chorus of "squees!" in the office every time we received progress photos from the test knitters. Today, I'm bringing you some behind the scenes photos from our shoot at the wonderful local kitty cafe, Purringtons Cat Lounge!
We LOVE Purringtons. Stacey and Jenny did a cat yoga night and we share new kitty listings around the office when we spot an especially cute kitty. The minute we decided to work on a collection of cat-themed knits I knew we had to try to work with them for our shoot. On one side of the building is a cafe where you can get coffee, tea or pastries and the other is an area where you can bring your snacks and hang out with adoptable cats. The mural is so very Portland and features a huge homage to David Bowie complete with space ships and other fun graphic elements.  We also loved meeting all of the wonderful adoptable cats! Above, Calyptus was a wonderful poser with the Jumpin' Cat Cowl. She really wanted the feather toy!
We spent a few hours taking photos and patiently waiting for kitties to get in the mood to model! Winston was a stunner with the Professor Meow Sweater. He was so chill and happy to just lounge that we got some really great photos, including the cover shot!
Not all photos had cats, but we loved being able to use them when they were up for it! Purringtons is a wonderful place to spend the afternoon and we love that you can give these little furry friends some love while you work or have a cup of coffee.
Pepper, the large black kitty, was by far my favorite. He was so big and spent the day observing just out of the frame of the camera.
I put a lot of thought into our locations for each pattern collection and this was by far my favorite shoot to organize. All of these kitties have since found new homes and a new batch have arrived, ready for cuddles and, hopefully, their furever homes! If you love cats and haven't taken a peek at our 9 Lives collection, make sure you pop over to see all the patterns! Also, if you're local to Portland, OR make sure you check out Purringtons as well!