I have a deep love of hand knitted socks – I love to knit them and I love to wear them. I also have an addiction to pretty handpainted sock yarn, but it's often difficult to find patterns that will play nicely with multicolored yarn. So we came up with entire book to show off our prettiest skeins – introducing Artful Arches.
This lovely collection contains 12 patterns using our brightest, boldest, most colorful skeins of yarn, using techniques like texture, colorwork, cables, and slip stitches to show off the uniqueness of these yarns. If you love our Hawthorne Multi and Kettle and our Stroll Hand Painted, this book is a must have.
I love this book! It was so enjoyable seeing the awesome creativity of these designers. I do have a few favorites of course!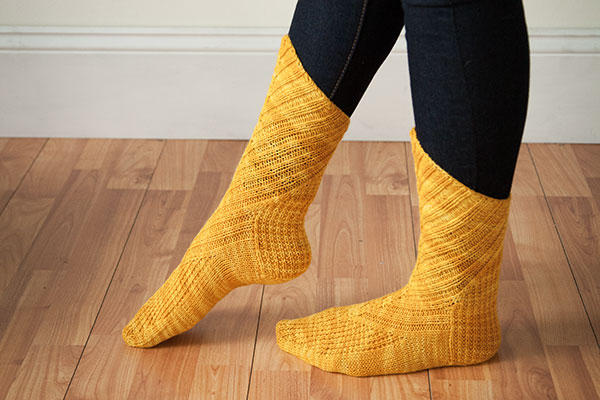 When I first saw Mone Dräger submission for her Oblique Socks, I was instantly in love. First, I adore interesting texture in socks patterns – you can do so many things with simple knits and purls and it really helps break up pooling in variegated yarns. This sock pattern has a great slanted cuff and fun variations on ribbing throughout cuff and foot. We used Hawthorne Kettle in Compass for this pair, but I have a skein of Picnic all wound up to make myself some Obliques! I know I'll be wearing these everywhere.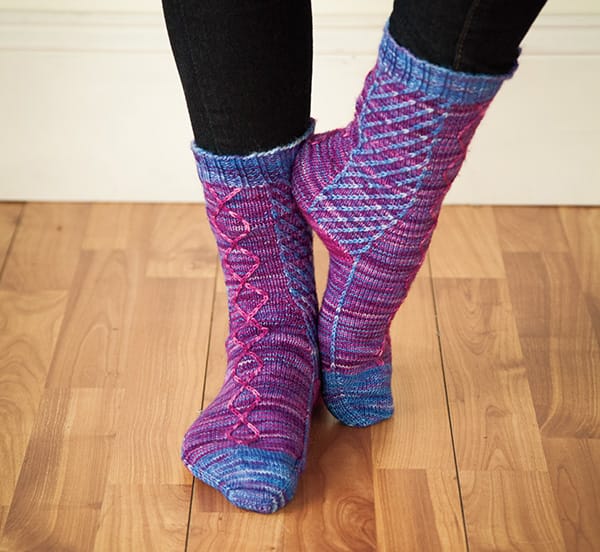 Mixing 2 colors of handpainted yarns always looks really great – especially when you have amazing and fun cables included. Amanda Schwabe' colorful Twirla Socks uses both Hawthorne Multi (Goose Hollow) and Hawthorne Kettle (Turkish Delight) to show off the slip stitches and cable – each color has it's own time to shine. It also uses the Strong Heel method for the heel, something I hadn't tried before but am anxious to do so after trying our samples on. So comfortable! I think this would look amazing in so many combinations, but I'm thinking a mix of Vancouver and Goddess would make a gorgeous pair of socks.
For a more subtle look to your socks, mixing a a neutral solid with a colorful handpaint is the way to to go! With the Tree of Life Socks, Kate Lonsdale's ode to Frank Lloyd Wright, the Stroll Black solid mutes the crazy colors of Stroll Hand Painted Koi Pond. The easy colorwork of this pattern, using slip stitches to create the columns, goes all the way around the foot so you have a little extra padding along the sole of your feet. Perfect you're on your feet all day!
These 3 patterns are only a small glimpse of what you'll find in Artful Arches. 9 more creative and colorful patterns await you in both book form and as an eBook. Or if you prefer your patterns a la carte, each one is only $4.99. Grab your DPNs (or long circular if you're a Magic Looper like me) and your favorite handpainted sock yarn and get ready to go on an adventure!