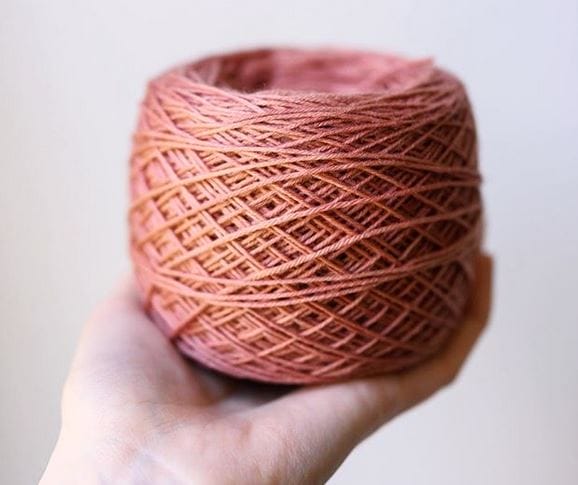 While it's not a secret by any means, you may not know that most of our existing yarn lines are available in their undyed, natural state. We lovingly refer to these pristine fibers as bare yarns. In addition to heavy-hitters like Wool of the Andes, Hawthorne, and Gloss, you'll find a healthy selection of unique fibers that aren't available as part of our regular dyed offerings. Weighing in at 100g, these yarns are less expensive than their colorful counterparts, making them a smart choice when shopping for budget-friendly fibers.
Aside from serving as a universally flattering neutral, bare yarns offer an exciting opportunity for fiber enthusiasts to create their own unique colorways, serving as a blank canvas for color experimentation.
We chatted with some of our favorite indie dyers to find out what secrets they might possess, what makes them tick, and of course, to get a glimpse of their beautiful creations. Here's what they had to say:
---
Susan of @YarnAvenger
What inspired you to start dyeing yarn?
I like to experiment with all sorts of things, and after 20+ years of knitting, I thought " Why don't I try dyeing some yarn?" So, I did some research over the winter and wanted to try something easy to start this new journey, without too much investment. I found out about solar dyeing and liked the idea of using the sun as the heat source for the dyeing process.
When the pandemic hit and I had to work full time at home, I thought this would be the perfect opportunity to try out solar dyeing. For my first attempt I choose onion skins and fell in love with the colour that came out. My next attempt will be with either tea or coffee to create a brown tone to go with the orange from this batch.
What do you do with your dyed yarn?
I will be knitting up my dyed yarn into a striped hoodie once I get that brown colour for my next couple skeins.
Any tips for someone who would like to try dyeing their own?
Do lots of research and make sure you have all the tools you need for the type of dyeing you want to try. Experiment and have lots of fun!
---
Michelle of @McKnittyYarns
What inspired you to start dyeing yarn?
I taught myself to knit many years ago, and I fell in love with indie dyed yarns. I couldn't always find what I wanted for my projects in terms of color, so I decided to see what was necessary to dye my own! I fell into almost by accident and it's grown by leaps and bounds from where I started, just last year.
What do you do with your dyed yarn?
Most of the yarn I've started selling. I think that if I can create colors I love, others will love them too! I do keep some for my own personal knits. My five-year old also enjoys dyeing yarns, so I buy her bare yarn as well. She decides whether she sells the yarn, or whether I make her something from it. Whatever she sells, she decides where the money goes. We've recently been discussing if she'd like to donate a portion to any local charities.
Any tips for someone who would like to try dyeing their own?
For anyone wanting to try out dyeing, I say order a bare skein or ten from you guys! I started with food coloring; that's a more economical option than jumping into commercial dyes. Most of all, have fun creating!
---
Katie of @AHandmadeJourney
What inspired you to start dyeing yarn?
I've always been that person that sees a color for so much more. You know maybe someone sees a yellow-green, but I see a chartreuse. So in my mind I had many images of these great colorways and wanted to see if I could bring them to life!
What do you do with your dyed yarn?
I am lucky enough to be able to sell my yarn in my Etsy shop! (ahandmadejourney.etsy.com) To be honest, when I started out I had no intentions to sell because I didn't think anyone would be interested. I mean look at all of the indie dyers already in the game! But I still decided to post photos on my instagram and I couldn't believe the interest. I had 10 orders in 2 days!!
Any tips for someone who would like to try dyeing their own?
I guess I would say to have fun. Don't be afraid to dye ugly yarn!! I mean, I've learned far more from my failures than I have from my successes. And while there are certain "steps" you must follow, the rules are made to be broken! Yes, color theory is real … I always dye from lightest to darkest color, but you never know! Just go for it!
Advice for those wanting to turn yarn dyeing into a side hustle/job?
It takes passion and drive to get through the hard times. You also need to be patient and give yourself a break. It might take a lot longer than you want to take off. It's so important to stay true to yourself and your vision–don't compare your journey to someone else's. You also never want to copy someone else's success because you won't get far. And be the kind of person/business you'd choose to support. What makes handmade/small businesses so special is the fact that we can and do make time for our customers in a way that big businesses can't and just don't do!
---
Katie of @newenglandknittahs
What inspired you to start dyeing yarn?
My desire to get to know my fiber better was my biggest inspiration for starting to dye my own yarn. I wanted to learn more about the fiber to yarn process and this was what I saw as the first step! I bought my first dye kit from Knit Picks, the Greener Shades Acid Dye Kit, and there was just no looking back after that. I could finally create these beautiful colors and do exactly what I wanted with my yarn. Not to mention the whole process of creating color and blending color just seemed so relaxing to me. Next step for me is probably buying my first spinning wheel!
What do you do with your dyed yarn?
I do a few things with my hand dyed yarn. Obviously I knit some of it! The colors that I truly fall in love with I selfishly keep to myself, I have no shame admitting it. But I am working on creating consistent colorways so I can share them with the world! The second thing I am just starting to do is sell my hand dyed yarn on my Etsy store, New England Knittahs.
I decided to sell both yarn and knit garments with my original inspiration in mind of an "ode to the process." I also create so much yarn and knitwear that there is just no way for me to keep or gift everything I make, a problem I never knew was possible! Finally, I also knit costume knitwear with my hand dyed yarn. Some people reach out to me saying they love a color I have created, but they don't knit and would really love a custom made garment. I don't need another excuse to pick up my needles!
Any tips for someone who would like to try dyeing their own?
My biggest tip for new dyers is don't be afraid. I felt nervous when dyeing my first few skeins of yarn because I didn't want to mess up and "waste" a skein. It is almost impossible to truly mess up dyeing yarn in my eyes, even if the colors came out nothing like you wanted them to, as long as you enjoyed the process and maybe learned a thing or two about dyeing, it was worth it! I have become a big fan of making my own mistakes when dyeing because that is usually when I create something I never thought I could!
---
Feeling inspired to try your hand at this wonderfully messy craft? Here are a couple of resources to help get you started on your journey:
Tutorials & Resources:
Supplies