We've come to the end of 12 Weeks of Gifting!  These two and half months have certainly flown by. This week is our last free pattern in the series, but never fear, these patterns will be available year round for whenever you need a quick gift. And I can guarantee that the project this week knits up super quick because I designed and knit it myself – Check out the Sugar Twist Cowl.
This cowl came about when Hannah and I were talking about how much we love projects featuring smocked stitches – they look so complicated but it's really an easy technique to do. I was already playing with some Biggo for a cowl pattern I wanted to do, so I started swatching. It's then when I realized why most smocked stitch patterns are not written for knitting in the round – to get that distinctive look, you are wrapping alternating columns of ribbed stitches. If you do that in the round, you'll have an obvious extra column of stitches at the end every other time you do the smocked stitch. Well, for a cowl, I wanted people to be able to wear it without an obvious seam no matter how they put it on, and I prefer to knit in the round anyway. So after a lot of thinking and more swatching (and then ripping out swatches), I figured out that by moving the start of the round over a few stitches every 6 rows, it'll keep the stitch pattern looking the same all over.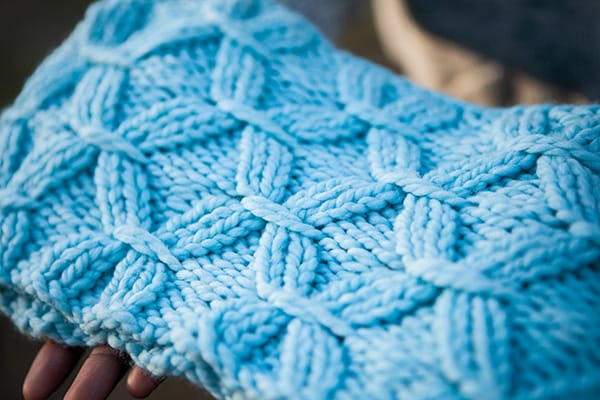 I love how it turned out – this is one of my favorite patterns I've designed. I've always thought that Biggo is a perfect yarn for cowls – it's super soft so it doesn't bother my my skin and the bulky weight works up so quick. I choose the pretty Wonderland Heather color because it looks nice with my wool coat but honestly, this cowl would look great in any of the colors, even the darker ones. There are 2 sizes available -the small as shown in the pictures and a longer one that can wrap double around your neck for the colder days. And don't worry, while the wrong side isn't as striking as the smocked stitch, it's actually quite nice so you don't have to worry about the wrong side accidentally showing.
We hope you have enjoyed this years 12 Weeks of Gifting! How many have you been able to knit or crochet this year?