There's still time to give a hand-knit gift this year for the holiday! Here are a few patterns that can be easily knitted in a weekend, afternoon, or even an hour. Some of these patterns can even be downloaded for free today on our website. Spread the handmade love around this holiday with these quick and easy hand-knit gift ideas!
Make this in a weekend:
There is nothing more comforting than a snugly shawl on a chilly day. The lovely Neottia Shawlette can be easily knit in a weekend and is a free pattern on our site. The simple lace pattern is a great way to dip your toes into lace knitting. It's knit in our favorite Chroma Twist Bulky yarn giving you beautiful waves of color effortlessly. The simple pattern and bulky yarn makes this shawl an easy knit for the weekend giving you plenty of time to make before the holiday!
Make these in an afternoon:
The Knob Hill Hat is the perfect quick knit hat with a stunning texture. Knit in our beautiful Tuff Puff yarn, choose a bold color to help brighten up any cold winter day! The pattern is only $2.99 on our site, and comes with a range of sizes so it can be an easy knit for anyone in your family. The bulky yarn and chunky texture makes this hat a quick knit that can be easily knit in an afternoon!
These thick slippers are perfect for keeping your feet toasty and warm on cold nights. These Chunky Slippers can be easily knit in an afternoon and are another free pattern available our website. Shown in Chroma Twist Bulky yarn, but they can easily be knit in any of our bulky yarn making it the perfect quick knit. These thick slippers are easily a favorite for anyone, they can easily be knit in an afternoon making it the perfect gift to give for the holidays.
Make these in an hour: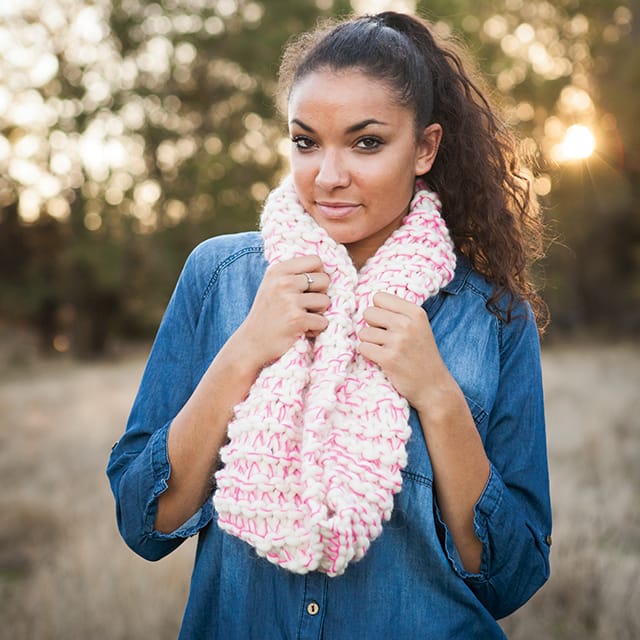 Its hard to not snuggle up with this fluffy cowl when its bone chilling cold out. The Electric Alpaca Cowl works up super quick with jumbo needles and a simple garter stitch. Mixing the neutrals of The Big Cozy yarn and the bright colors of our Stroll Sock yarn gives this cowl a fun pop of color. Download the pattern for free, and whip up this quick knit for the perfect holiday gift for anyone on your list!
Beauty meets utility in these oh-so-easy garter stitch dishcloths. The Kyna's Washcloth is a free pattern available for download on our website. Knit with two strands of our CotLin yarn held together to create a marled effect and surprisingly squishy fabric. These washcloths are perfect for either in the shower or tidying up spills in the kitchen. The easy garter stitch makes them perfect for beginner knitters, and a quick knit. Knit as a lovely color-coordinated set for the perfect holiday gift.
If you were planning on giving a hand-knit gift this year for the holidays, don't worry! There's still plenty of time to whip up any one of these great gifts. Anyone on your holiday list will enjoy one of these hand-knit gifts and appreciate the handmade love – no matter how long it took!