Once again it's time for our monthly yarn sale, and this month it's CotLin! 
The blend of 70% Tangius Cotton and 30% Linen gives this yarn a wonderful lushness that endures even through the demands of daily use.  Each wash makes these fibers softer, which makes CotLin an excellent yarn for a wide range of finished pieces.  From marvelously breathable garments to luxurious, yet durable kitchen and bath accessories, it's absolutely perfect for anyone who's looking to knit or crochet projects that will stay with you day in and day out.
The satisfaction I get from using something I've made myself brings me back to practical projects more than any other.  I absolutely love them!  So, if you're like me you'll definitely celebrate this month's yarn sale.  At 20% off this fabulously breathable yarn is only $2.39/ball!  That's affordable enough to make a whole set (or two!) of lovely, practical pieces you'll be able to enjoy time and time again.
I've decided to share a collection of some of my favorite CotLin knit and crochet patterns to help you reinvent your home and wardrobe during this fantastic yarn sale!
Dream Linen Rug and Table Runner – Knit Pattern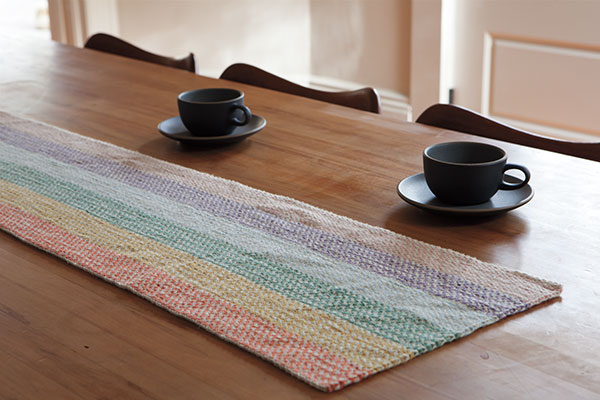 A dreamy addition to any home, this intermediate pattern can show you how to knit a handy set of table runners and rugs.  The linen stitch complements the durability of the yarn to craft a cute and long-lasting addition to your kitchen or dining room.
Post Stitch Dishcloth Sampler – Crochet Pattern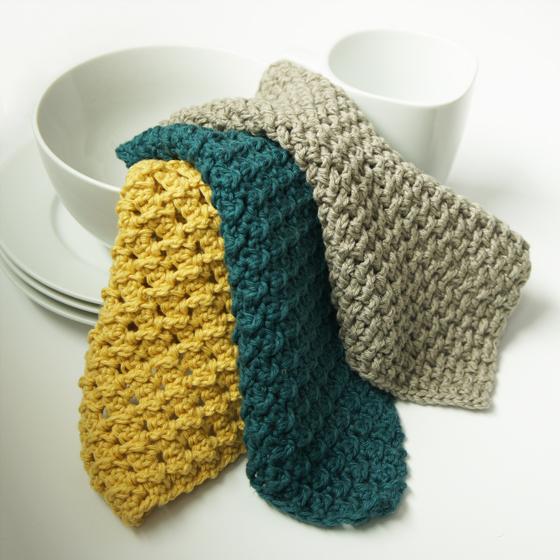 Accent your kitchen with crochet!  With this set of dishcloths you can practice your post stitch while reminding yourself that elbow grease can be classy, too.
Nook and Dinette Dish Towels – Knit Pattern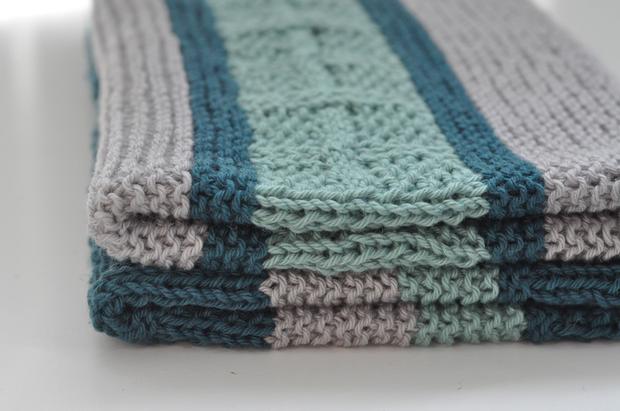 Knit, purl, and garter stitches fuse in this multi-use knit pattern.  You can choose any color combinations to match your kitchen.  Change your palette to pastels to create a thoughtful baby gift, because new parents can never have too many burp cloths!
Beachcomber Shawl – Knit Pattern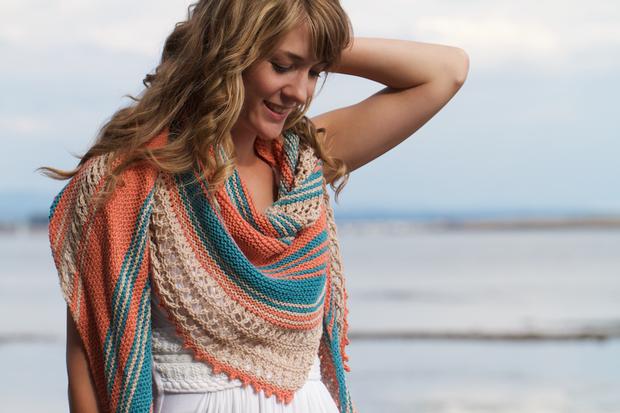 CotLin gives this lightweight accessory a vibrant splash of color.  Bands of lace and multicolored garter stitch pair with a diagonal work direction and a picot bind-off to create a stylish design.  This shawl makes a superb gift if you can bear to part with it!
Black Raspberry Shawl – Crochet Pattern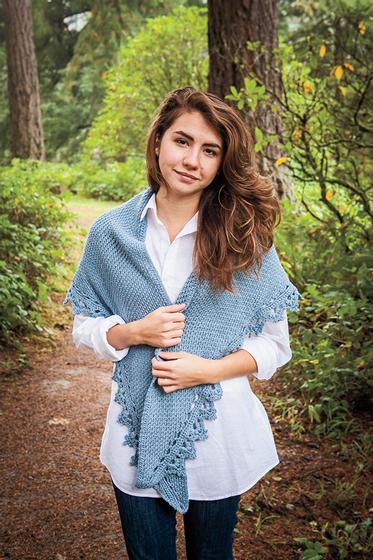 Get your crochet hook working and expand your wardrobe with this spectacular shawl!  This easy/intermediate pattern incorporates a single color of CotLin yarn and puff stitches to create an attractive texture.
Band Camp Pullover – Knit Pattern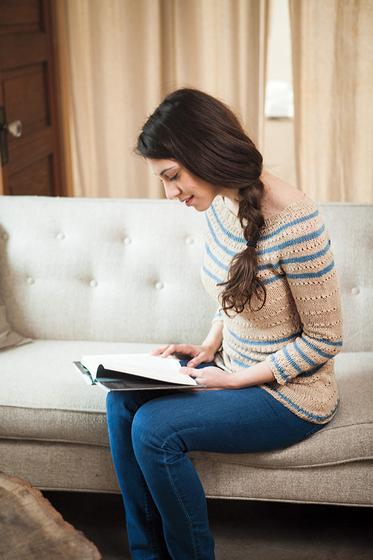 Featuring eyelet rows, stripes, and knitting from the top down, this pullover is just waiting to become your new favorite!  Knitting this project with CotLin makes this makes an entertaining and rewarding pattern to follow.
With CotLin at 20% off during our yarn sale, you'll have so many options to redecorate your home or wardrobe.  Pick some up today and renovate your style!