I'm in a swoon over the new Well Made-Home: Crochet pattern collection! There are so many great projects from throws to accent pillows and even a set of small storage baskets, ideal for gift-giving or housewarming presents for everyone you know. Who doesn't need something homemade and cozy to decorate their abode? I wanted to take a moment and offer some ideas for alternate colorways for the projects I've come to love and covet.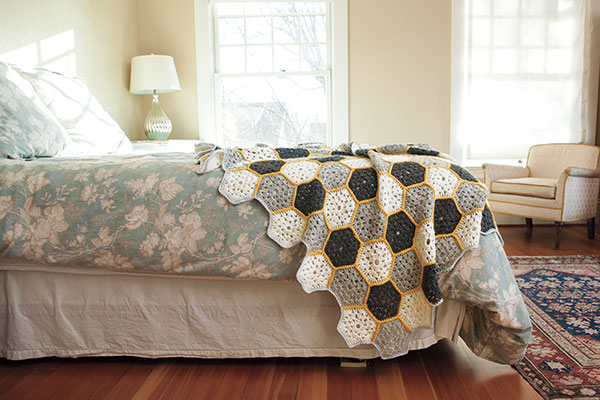 First up is the lovely Busy Bee Throw by Shaina Scott in Wool of the Andes Superwash. You can go SUPER bee/honey/hive/comb colored with a range of autumnal yellows and oranges with white accents! From left to right is Brass Heather, Semolina, Orange, Persimmon Heather and White.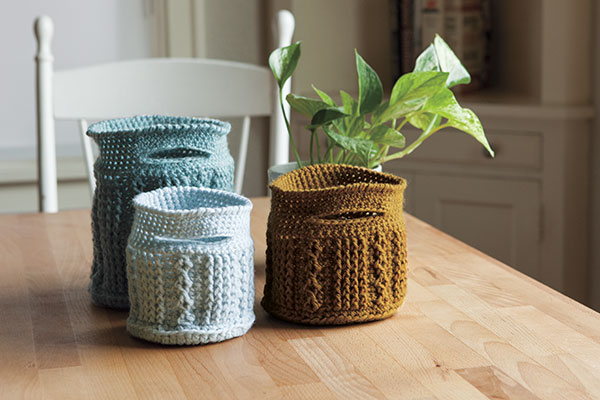 Next up is the super cute and infinitely useful set of three Crochet Cable Baskets by Karen Pendergraft in Wool of the Andes. I love the idea of using these to store yarn ends in my craft room or even cotton balls in my bathroom! Whether working up a set in a natural palette (top, left to right: White, Mink Heather, Camel Heather) or a moody monochromatic  range of greys (bottom, left to right: Dove Heather, Cobblestone Heather, Onyx Heather) these baskets will fit into any decor.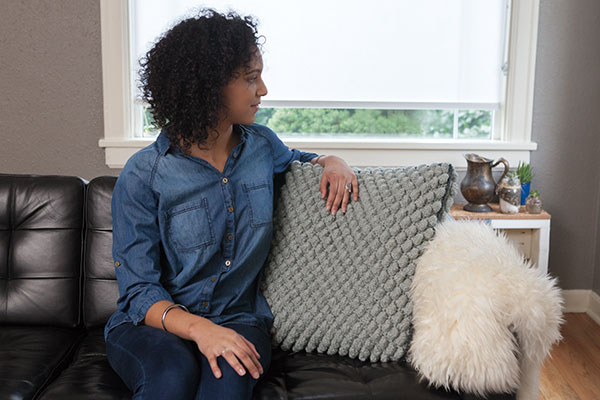 Lastly is the huge, super comfy Polished Peblles Cushion by Beth Graham in Wool of the Andes Superwash Bulky. I love the Dove Heather and Cobblestone Heather colors chosen for the photograph above and I would absolutely whip one of these up for my own house! However, my friend just moved in to a new apartment and the color palette she's chosen for her decor includes soft whites, light grey and warm browns and I've been debating among a pop! of blue (top, left to right: Celestial and Clarity), some warm natural colors (middle, left to right: Camel Heather and Chocolate) or an icy blue (bottom, left to right: White and Fjord Heather).
There are so many ways you can customize your projects to suit your personal taste and the decor of your home. Even the smallest color shift can make a difference in how each project feels, let alone a dramatic shift to a completely different set of colors. What colors would YOU choose for each of these projects? Let me know in the comments!