Several years ago, I got to take an amazing trip around the UK and Ireland with my husband and his parents. It was such an incredible, once in a lifetime opportunity, I decided I wanted an equally special, one of a kind souvenir to remember it by, so I came up with a plan to knit a trip sweater! And then I did it!
The idea was to buy yarn in every city I visited (or as many as possible, at least), and then knit a sweater with stripes of all the yarns I bought. Also, to have the project as my travel knitting throughout the trip–on planes, trains, and backs of cars. So I started my planning by choosing a pattern. I thought worsted weight was the best option—it would be an easy weight to find in small yarn shops and it's a weight I enjoy using. And because the project would be SUPER stripy, I needed something simple! Stockinette, with subtle details, would let the colors shine. I used ravelry to search sweater patterns, and I stumbled on one called Tourist Sweater by Joji Locatelli. It looked like exactly what I wanted, and the name just made it so perfect! Meant to be.
I bought a few skeins of neutral yarn before I left–to get started on the plane to London with the solid color cowl neck, and then to use in stripes throughout to help break up the colors and make the whole thing cohesive. Then when we got to London, I started shopping! Here are a few with labels that I still have around …
I was able to buy yarn in most of the major cities we spent time in. Some made it harder than others to find a nice yarn, and there were a few spots I didn't get any, usually because we weren't there long enough to find/travel to a LYS. In the case of Bath, we did find a great looking shop, but they were closed the one day we were there. Sad face.
Above are all the places I bought yarn throughout the 3-week long trip: London (from a couple of different LYSs), Bristol, Holyhead in Wales, Dublin, Galway, Edinburgh (from a couple of different shops), York, and then a couple more back in London where we ended. And then I also bought buttons!
I did a bad job of keeping track of where the buttons came from, but I know I was able to buy a button in at least one of the spots where I was unable to buy yarn (Glasgow—we found a fabric shop there with buttons, but no yarn). I think they came from: (above) London, Holyhead, Glasgow, Edinburgh, (below) York, Dublin, Edinburgh, Edinburgh.
I ended up making the sweater significantly too large. This was actually the first sweater I ever knit! I had been knitting for about ten years by this point, but I'd only knit accessories. I think I was nervous about gauge because I knew it might be funky, using all different yarns, and I'd rather it be too big than too small, so I erred on that side … and yeah, it's huge. But it wears like an ultra cozy, over-sized wool sweatshirt. So comfy!
For the sleeves, I got asymmetrical–because I can never be simple. I don't remember my reasoning behind why I made the stripes exactly how I made them, but I like them!
I took tons of photos on that amazing trip, but I see this sweater sitting on my shelf more often than I look at the photos, and it's such a fabulous souvenir to have. I think it's common for most of us knitters to attach memories to projects, where we were, or what we were watching or listening to as we knit. This sweater takes that memory connection to another level! I only knit down to around the Dublin stripes (that's less than halfway down the body) during the trip itself, and then I took quite awhile to finish it after we got back, but the whole thing stays connected to that trip. I wear it and remember exploring museums in London …
… eating vegetarian bangers & mash in Oxford …
… spending a slightly terrifying day on narrow roads in the backseat of a rental car, touring Cotswolds …
… seeing Banksys on the streets of Bristol …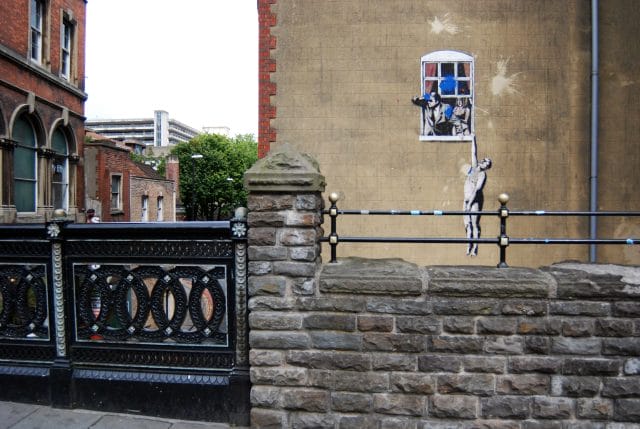 … touring the historic Roman ruins in Bath …
… riding through Wales up to the ferry (and choking down the grossest sandwich I've ever eaten, while looking at sheep) …
… wandering the streets of Dublin …
… watching street musicians in Galway (one of our favorite spots) …
… seeing some of the hundreds of murals in Belfast …
… getting a horrible cold in Glasgow and having to stay in a hotel room all day, watching bad daytime TV, so extremely sad I couldn't explore that city (okay that's not a memory I like having, but the few parts of Glasgow I got to see before locking myself up in the room were great) …
… taking a tour bus up through the highlands where I met Hamish the Highland Cow (who seemed to be treated quite like Li'l Sebastian, with merch for sale and everything) …
… squeezing in as much of Edinburgh as possible during our limited time there (definitely a favorite) …
… a beautiful train trip down to York for a day (another favorite) …
… and finally, getting caught in a hurricane on our last day in London! Phew! What a time!
Another thing I loved about this project is that the mission to try to hit a LYS in every city led us off the beaten tourist path in a lot of cases. We really explored some of those cities in ways we wouldn't have otherwise!
BTW, I wore this sweater to my job interview here at Knit Picks, because it had a story behind it, and I obviously got the job! Thanks, sweater!