One benefit of staying indoors all the time? Endless opportunities to pick up our hooks and needles and dive into our crafty stashes. In the spirit of a good ole fashioned show & tell, we invite you to take a gander at the projects that have been keeping us busy these last few months. Gander on!
---
My twin nephews requested beanies with "all the colors of the rainbow and a pom pom the size of a dinosaur". I did my best to deliver! They are crocheted in Stroll held double in hdc stitch. The pom poms are made with a jumbo pom pom maker.
I finally was able to knit something with the squishy yarn that I dyed at our indigo dye day at the office. I free-styled a garter stitch wrap with some fringe. It's been the perfect wrap for chilly morning walks. The yarn used is Super Bulky Soft. – Hillary
---
Here's a project I finished a few weeks ago – the Jacquard Baskets in Dishie held double. I loved the pattern when I first saw it ages ago and knew I'd try them some day. – Gerda
---
Just finished up some Rye socks for my Mom! I used Wool of the Andes Tweed in Picket Fence and Wool of the Andes Hollyberry. – Morgan
---
I made Bristol Ivy's Wainwright cardigan using a giant pile of leftover yarns for a stripy interpretation of the fun design! – Lee
---

I used the Hawthorne Kettle colors of Goddess and Slate held double with Aloft Hand Painted in Rio to make my version of the Autumn Amber Pullover.
Also, socks! – Elise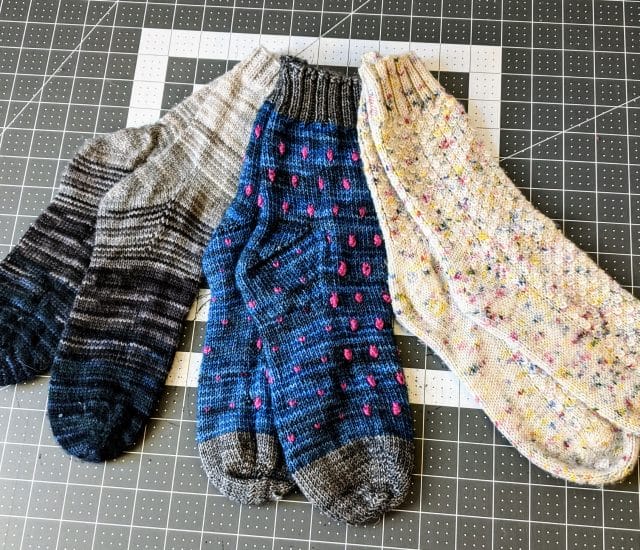 ---
I just finished this sweater, using Twill Fingering in colors Voyage Heather and Graphite Heather. No pattern—just made it up! – Regan
---
Hats and hats and hats! I told myself I wasn't going to make hats for people for the holidays this year, but here I am doing just that. The left two hats use Chroma Worsted and the other three use Muse Hand Painted (aran weight) with the right two also held with Aloft. – Sarah