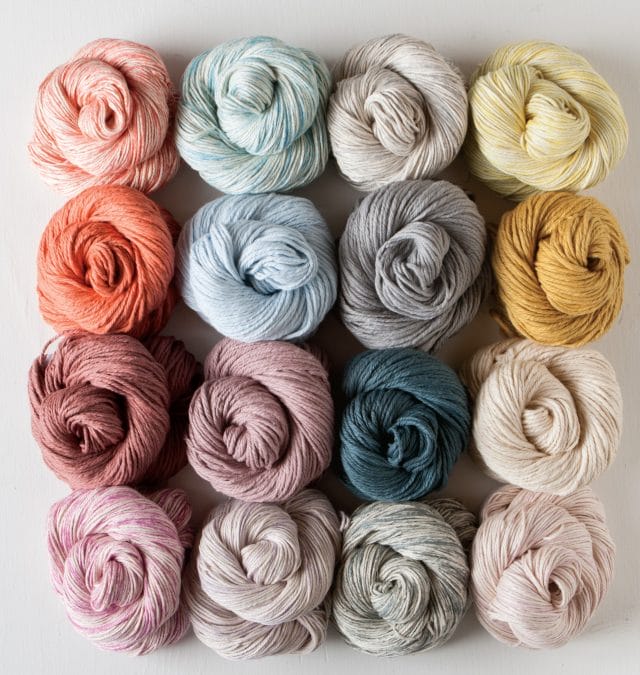 Summer is almost here, huzzah!
As I brace myself for the triple digit temps that are inevitably headed my way, I plan to lighten things up a bit and opt for more breathable cotton garments in place of my standard heavier knit cardigans. I will likely be dressed in my typical "out-of-the-office" summer uniform for the better part of the season: jean cutoffs and a breezy cotton top of some sort. While my hot weather outfit formula is pretty basic, I do intend to revamp things a bit this year and *fingers crossed* add some hand-knit pieces into the mix.
I've had my eye on the Simply Surprised Tee ever since it debuted as part of our Renew Collection a few months back. The aesthetically pleasing mottled effect of the garment comes from Curio yarn being held double, resulting in me having major heart eyes for this pattern! It will be mine. Oh, yes. It WILL be mine.
I love all of our cotton yarns, but I am currently smitten with Color Mist. The blend of 75% Pima Cotton & 25% Acrylic makes for a smooshy-soft yarn that is great for warm weather wear. Oh, and it's machine washable? SOLD.
As far as my coworkers are concerned, I did a little office recon to get the scoop on their collective favorites from the cotton yarns & patterns realm. Here are the results of my inquiry. Enjoy!
Hillary, Catalog Director
Billow has such pretty colors and I love the bulky weight. I have been looking for a pattern to try the yarn out and fell in love with the Sunshine Chevron Baby Blanket. My friend is having a baby and Comfrey, Tea Rose, Turmeric and Cadet will make the sweetest baby blanket!
Daniel, Amazon Director
Hearth – Super classic shape and design, with tassels for a trendy touch. It's a great size, and the cotton gives it a comforting weight and nice drape. The pattern is for Comfy Worsted, but I covet one in Shine.
Alexis, Merchandise Planner
I'm a sucker for Shine. The blend of Modal® with Pima cotton give it that lux look, but its easy care! It feels so nice in the hand and with 30 colors to play with there are endless possibilities to knit or crochet in.
The new Invariance cardigan is in my project queue in multiple colors since it will make a great accent piece in a bright color over summer dresses. I'm thinking Grapefruit, Reef, or Cosmopolitan even.  Not to negate the stunning original in Robot. Let the compliments commence.
And there you have it. The long and short of our more-than-seasonal love affair with cotton. What are your dream cotton patterns?