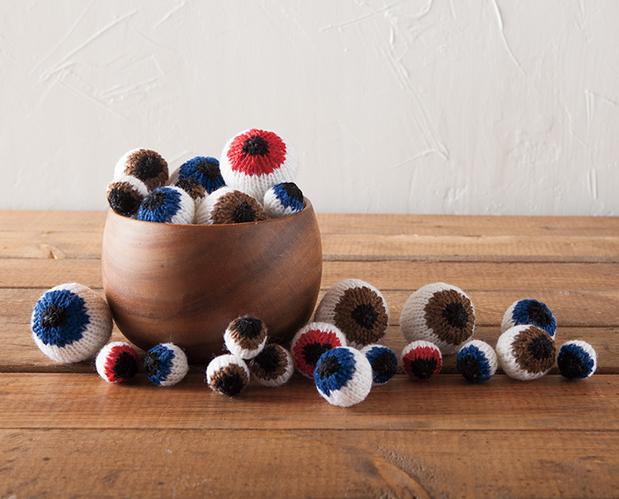 It's time for hauntings, ghostie ghoulies and other fantastic Halloween traditions! You can celebrate in style this year with your own bowl full of knit eyeballs with this FREE Knit Eyeballs pattern.
Cute rather than creepy, even kittens LOVE them. They're quick and you can get more than a few out of one skein of yarn, perfect for your desk at work or your mantel at home! If you're looking for other Halloween appropriate projects we have a Bat Hat and Mask and a Beard pattern, both are perfect additions to a semi-last minute knitted costume.
In other knit news, I made a "Classic Zombie" from the Knit Your Own Zombie book just in time for a friend's October birthday. The book has several little modifications you can add to any of the zombie shapes and Fiona Goble has written the patterns so that you can separate the torso from the legs and arms with Velcro for some super cute, grizzly playtime. I loved being able to customize it with a little pouch for his removable stomach and even a little pink brain that pops out of his head!
I feel like I only get one month out of the year to try my hand at crafting creepy, funny and totally crazy knits so I take full advantage of the season to make something a little bit out of character and I just love how he turned out! I especially enjoyed explaining to people who asked what I was making while I was plugging away at his various pieces in coffee shops and at my local knitting night!
 The Classic Zombie was definitely a bit of a challenge and I converted all of the instructions to work in the round on DPNs because I just can't STAND seaming. In the end I spent about four days playing around with "Tony" as he's now dubbed by the birthday boy, the perfect amount of time to spend on a seasonal toy.
Are you working on Halloween or even Thanksgiving decorations this year? Do you have a favorite pattern? Share it in the comments below!