Comments are now closed – Stay tuned for the winners!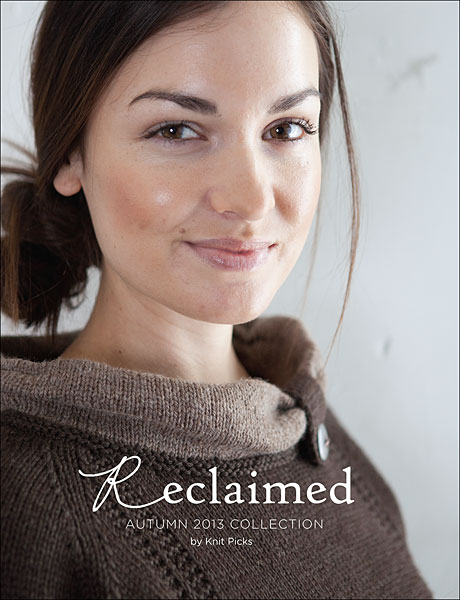 Fall has always been my favorite time of year – even when I was young, I was always excited when September rolled around: the weather starts getting cooler, the leaves begin to turn, and hot apple cider and various pumpkin flavored items begin to appear in shops. (How much do I love fall?  Well this guy pretty much sums up my excitement)
So way back when we started discussing doing an Autumn collection as a follow up to First Light, I had a feeling this would be an incredible collection.  Then when I saw the submissions we received from the designers, I knew this would become an all time favorite.  Even better, as the designer coordinator, I got to work with all 13 of these incredible designers and got a first look at everything!
And now we are excited to share with you Reclaimed – the  Knit Picks Fall 2014 Collection! I could talk about each design & designer in this collection but rather than make this longest post ever,  I decided to just share a couple of favorites.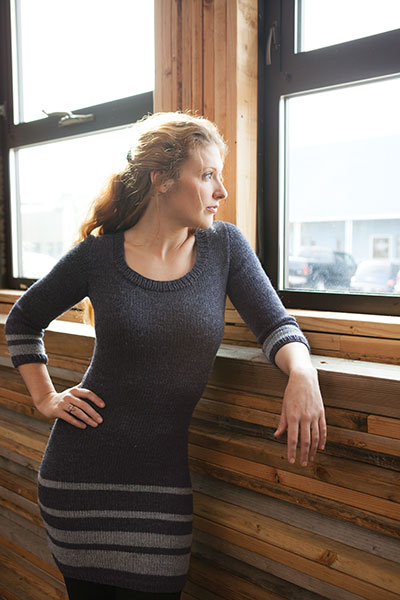 I'm not normally one for knit dresses, but seeing Thayer Preece's Addison Dress has completely changed my mind.  It just looks so warm & comfy and I'm always immediately attracted to any pattern with stripes!  I've got the yarn picked out (our new Wool of the Andes Superwash!) and now I'm trying to decide what colors I want to make – either keep it more neutral or go a bit brighter.
I want to say Lisa Kereliuk's Swarm of Bees sweater was the first submission to go in the yes pile – all of us absolutely loved Lisa's idea, with the different textures all over the sweater – including a mock belt at the waist with a bee cable pattern.  Be sure to check out all the photos on the pattern page to see the full effect!
Hilary Smith Callis is one of my favorite designers – all of her designs are instantly wearable for everyone and so well written (and she's honestly one of the nicest people I've ever met).  Atmos is no exception – such a great shape and beautiful cables – I like big cables and I cannot lie (sorry for that earwarm).  Knit up quickly in Swish Bulky, I can see making this for a holiday gift this year.
There's so many great patterns in here – for instance, I didn't even include the accessories!  We're so excited to share this with you, we've decided to have a giveaway –  to enter, check out all the Reclaimed patterns here, then come back and leave a comment on this blog, letting us know which pattern is your favorite and why.  That's it!  I'll randomly draw 3 names on Monday August 19 and each one will win a copy of the book!
Rules: One entry per person. Must have a US or Canada mailing address. No purchase necessary. All comments must be posted on THIS blog post. Comments on other blog posts or on social media sites (Facebook, Twitter, G+, Ravelry, etc.) will not be valid for this contest. We will close the comments at 7am PST August 19th and randomly select the winners then!
As a note, don't worry if your comment doesn't show up right away – because of not-very-nice spammers that slip through our filters, we need to approve each comment.  So there might be delay, especially over the weekend – but don't worry, we'll get your entry!