As the rain goes so does my pattern queue. It's been a long wet season in the Pacific Northwest and I have added many projects to my list, especially as my skills grow.  A "problem" many of us can relate to, I'm sure, no matter what the weather.
There are the ones that you just have to make because: so cute! Like the Easy Stripes Blanket. The pattern is simple and with just two colors the possibilities are endless. Perfect for every room in the house. I'm already planning to make it in  Custard Brava Worsted and Dove Heather Brava Worsted, and another in Crest Preciosa and Blue Skies Preciosa. Bonus is the pattern is free and it only takes 6 100gm balls of worsted, making this a very budget friendly gift project.
The Moxie Shawl caught my eye because it immediately made me smell flowers. I daydreamed of strolling in a park full of fresh spring blooms or the on boardwalk at dusk. Plus it will be a great way to test my crochet skills.
In a richer gem stone color it would make a perfect addition for an evening out. Biggest problem would be trying to narrow it down to one color of Luminance. Just look at the riches.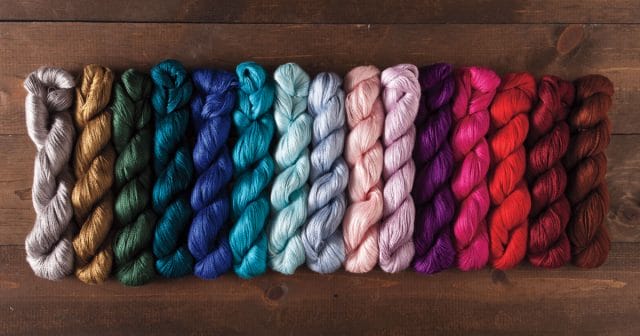 And because I can't fight my love of whimsy, the Cowl's Meow made it on to my list too. I love the colorways in Chroma and this looks like a fun project to step out of my comfort zone. Plus CATS!
What's in your pattern queue?