As the days grow shorter and colder, the desire to snuggle up on the couch with a cup of hot tea and crafty project grows stronger. Which is perfect, as our fall launch is here, ranging from a new luxurious hand painted silk lace yarn to a cheerful Santa-festooned pillow! Take a gander with me through our new crafty delights!
We will start off on a luxurious note, with our new Luminance Hand Painted yarn, a decadent 100% silk lace in hand painted hues. With all the superior sheen and excellent drape of Luminance, the curated color combinations of mutual tones are carefully chosen for visual interest without too much contrast. Bring breadth and character to your projects without overpowering delicate designs!
Fine-weight yarn project lovers, this is your time! All U.S. size needles 0 – 3 are on sale for 25% off. Stock up and start knitting those hats, socks and lace projects!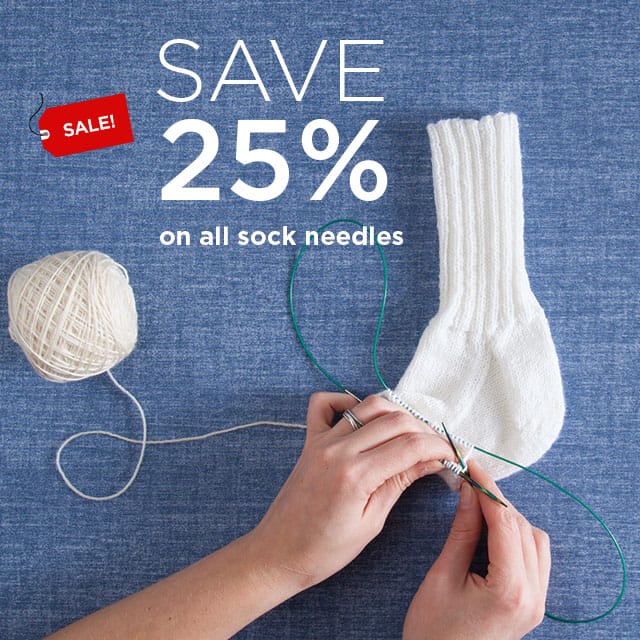 To brighten those aforementioned gray and cold days, our new 15 pattern collection Color Shift is a love letter to color and all things bright, bold, and diverse. It offers an enticing array of palettes, projects, and techniques ranging from merino marled sweaters to colorful entrelac blankets. When you're ready for something new and inspiring, it's time to make a Color Shift.
This stunning sweater has my name all over it! I love the contrast of the white and blue stripes, as well as that oh-so-comfortable fit in our soft Stroll Gradient yarn.
Blankets were the first thing I made when I started my fiber crafting journey, and this showpiece is one of the reasons why! I love how the size of blankets allow for a beautiful pattern to emerge over the repetition of a smaller design element. If you've ever admired the beauty and precision of quilting, without the skill or patience for the intricate piecework, the Ombre Knit Quilt is for you! This knit version of a modern, modular quilt is worked in sections and sewn to make create blocks and stripes of shifting color.
Aaaaand now to my favorite part: CHRISTMAS. I'm the type of gal who starts listening to holiday tunes on a light basis in August, then transitions full swing into non-stop festive mood the minute that calendar says November (don't judge). So our new pattern collection Merry Knitmas is filling my heart with seasonal joy! From the most amazing Santa pillow to a stunning, customizable Nordic stocking, you'll find all the patterns you need to deck your halls with handmade knits.
Save