October is full of exciting news here at Knit Picks HQ. We labored all summer long to bring to you, our favorite fiber fiends, brilliant new waves of Chroma, a new weight of Alpaca Cloud, and both new colors AND weights of Curio. There really is so much good stuff to explore, let's dive right in!
New Chroma Colors
We've expanded our roster of color-transitioning superwash wool/nylon blend Chroma yarns in both fingering & worsted weights. That's right! There are now 14 new mirrored gradients of color for you to explore. The only question is, which color will you use to make the Flight of Birds Shawlette? Decisions, decisions.
New Yarn: Alpaca Cloud DK

Alpaca lovers, rejoice! Alpaca Cloud DK is here to fulfill all your cozy sweater needs this fall. This new version is the same soft, light, and amazingly warm fiber made from the same Baby Alpaca as our Alpaca Cloud lace weight, just a bit bulkier. Perfect for garments intended to be worn next to the skin, or comforting cold weather accessories, like the substantial Banu Wrap.
New Yarn: Curio #3
Curio #3 is a heavier weight version of Curio #10. This mercerized, 2-ply #3 crochet thread is available in a brilliant range of shades from jewel tones to pastels and a lovely selection of neutrals and basics like black and white. Prefer the finer weight of Curio #10? There are new colors of it, too (see below)!
Cadence: Luxe Knits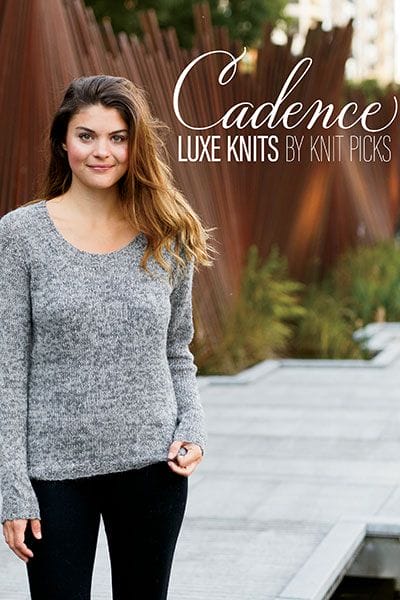 Cadence: Luxe Knits The seven sumptuous sweaters in this collection are knit in solid or marled color blends, and they feature either fitted silhouettes or charmingly slouchy styles. You'll also find a few glamorous scarf/wrap projects and a couple of soft, pretty hats to keep you feeling luxe from the head down.
Best of Knit Picks: Accessories
Best of Knit Picks: Accessories Cables, colorwork, short rows, and lace—we've got it all here for you in our Best of Knit Picks: Accessories collection! Keep it simple with a straightforward hat or wrap, be adventurous and try out a bag or socks project using intarsia, or give steeking a shot with some elaborate stranded slippers. A few of the patterns use lots of yarn colors, making them extra fun to customize, and we also offer up multiple colorway options, all fully charted, to inspire. These ten patterns will make countless projects, as several include two or more versions, and/or extra options to keep your needles busy!
Bare Hawthorne DK
Oh, and one last thing—Hawthorne in now available in a Bare DK version!!!
Happy crafting!