I'm so excited to show you our newest batch of Felici striped colorways!
I have a personal reason that I'm especially excited about this release: I designed a bunch of them! I started here as a graphic designer last fall, and since then I've gotten the extremely awesome chance to help design yarn colors a few times so far, this batch being one of my first! I didn't create all of these, but most of the especially colorful ones are by me … I tend to have the color taste of an artistic five year old. So if you happen to love this group of new colors, yay I'm so glad! And if not, sorry, I'll try to tone it down a little next time. 😉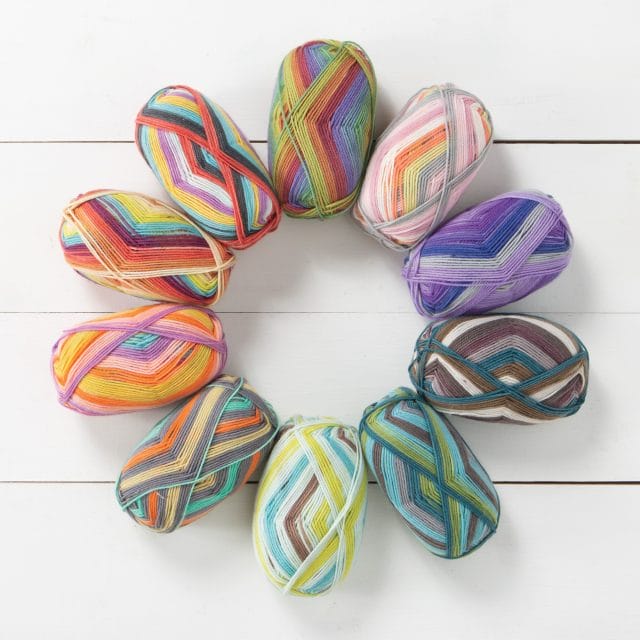 My favorite thing about this release is that there are not one, not two, but THREE full rainbow colorways! A rainbow for everyone! So we ask you: are you a Pinwheel, a Punky, or a Cloudy with a Chance of Rainbows? (That's left to right on the image below.) I'm biased so I love them all, but if I had to choose just one, I think I'm a Pinwheel most days.
Besides the rainbows, we tried to think outside the box a bit and come up with some colorways that are pretty different from previous Felici skeins. That gets hard to do after awhile, but I think we came up with some pretty interesting options for you!
As a knitter who almost never makes anything in fingering weight, I plan to try using these in ways that work for me: holding two of the same colorway together, trying to keep the stripes as matched as possible, to turn the yarn into a light-worsted-ish weight; and/or holding one strand together with a solid yarn, in a white or other neutral shade, to make a marled self-striping look! That way I will actually use Felici skeins instead of just letting them look pretty on my yarn shelf.
Above is a quick little swatch I knit up using Pinwheel held together with Stroll Glimmer in White, on size US 7 needles, for a gauge of approximately 5 stitches/inch, so a pretty standard worsted weight gauge. If you tried to make an effort to twist the strands around each other a bit as you knit, you could make it look more marled, like as if they were plied with each other instead of just held together. Maybe I'll make a sweater like this!
What's your favorite new colorway? What are you going to make with it? Socks are the obvious choice, of course, but there are so many fun striping things to be made! I'd love to see a Felici cardigan, hats, mittens, cowls … I can't wait to see your creations! Be sure to tag us on instagram so we don't miss them!