The newest member of our alliterative sock collections is the lovely Splendid Soles!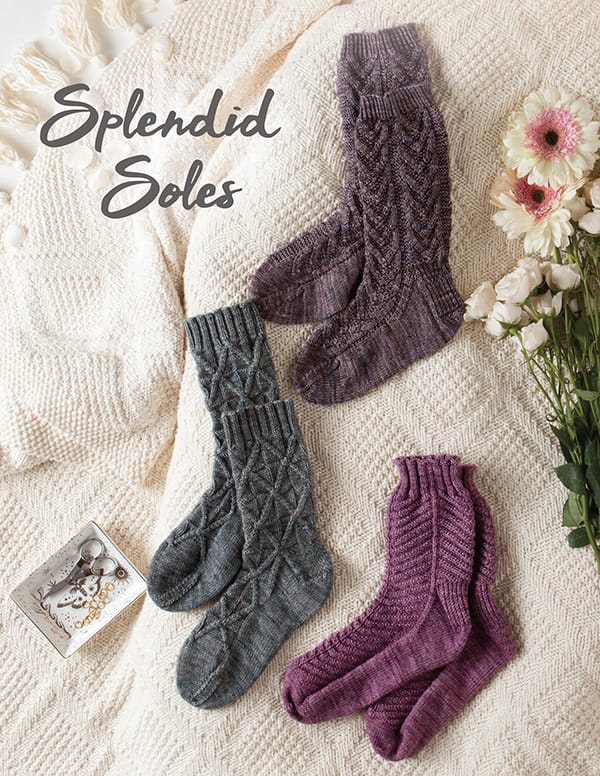 Joining Artful Arches and Toasty Toes, Splendid Soles is gorgeous collection featuring classic cables, delicate lace and fun textures. As the resident Knit Picks Sock Knitter, I'm in love with this collection and awed by the creativity of the amazing designers included. My needles are itching for so many of these patterns and I'm feeling a case of startitis coming on. Maybe multiple.
A pair that really stands out for me is Transversal Socks by Mone Dräger. Those cables are absolutely stunning and the texture in the background shows them off to their full beauty. It's also knit in my favorite yarn and color – Hawthorne Tonal in the colorway Astoria. I can't wait to cast these on.
Also in Hawthorne is the pretty Bakewell Socks by MK Nance. Knit in 2 colors, these beauties look difficult but only one color is carried per round, with slip stitches and small cables creating the distinctive waves up and down the leg and foot. Choosing what colors to knit them in might be the most difficult part!
The Don't Interrupt Socks by Megan Dial features a technique I haven't tried before – a double gusset taking the place of a turned heel, with increases and decrease taking care of the shaping. There's no flaps, short rows or picking up stitches. Crazy! While I don't mind those things – I am a sock knitter after all – it would be nice to expand my horizons and try something different.
These three are only the tip of the iceberg of what Splendid Soles contains – I didn't even mention the knee high socks, the DNA inspired pattern or a unique swirling pattern that will catch everyone's eye. Be sure to add this to your sock book collection either in book form or as an eBook. And tell me some of your faves in the comments!