We are obsessed with our new cabled sweaters book, Chalet! With an extensive size range, most of these garments are also gender-neutral and would be a great fit for any body. They feature a wide variety of cable patterns, from simple, easy-to-memorize repeats to much more complex, brain-twisting gnarls!
On the cover is a favorite: Crisscross by Helen Metcalfe. Worked flat with drop-shoulders, the boxy silhouette is simple and classic, and the highlight is that cool cable column running up the center!
To show off the gender-neutrality of most of the sweaters, we had several of them knit up in two sizes. The first like this is Axiom by Claire Slade, designed with modified drop-shoulders and an attractive cable column running up the center.
North Ridge by Valerie Hobbs is also shown in two versions. With the eye-catchingly cozy shawl collar and classic cable twists, this drop-shouldered pullover will look great on anyone.
Another favorite around the (virtual) office is Diamonds Are for Everyone by Holli Yeoh, with its saddle shoulders, shaped armholes, and comfy fit. Bonus about this one: all the cables are 1-over-1 twists, very easy to execute without a cable needle!
We kind of see Oshinkoshin by Mari Tobita and Diamonds Are for Everyone as long, lost siblings, as they both feature diamond-ish cable designs running up saddle shoulders. Of course, they are each their own sweater and we love them both!
Cartwheels by Rita Taylor is another saddle shoulder design, covered in fun, twisty cables and textured stitches for the ultimate warm and cozy style.
Monte Rio by Stephannie Tallent is another with saddle shoulders, but it has more armhole shaping than the last two we looked at, and is worked from the top down with a seamless construction, cables filling up all that yoke space in a complex field of twists for the more adventurous cable knitter!
Mosquito Creek by Moira Engel is the only cardigan in the book. It's long and shawl-collared, with beautiful, twisty cable patterning and set-in sleeves for a perfect classic style.
The only sweater in the book that isn't so gender-neutral is Gannet, a hoodie by Kristen TenDyke designed with waist shaping, but of course you could just leave out that shaping if you prefer. We love Gannet's snuggly hood and kangaroo pocket!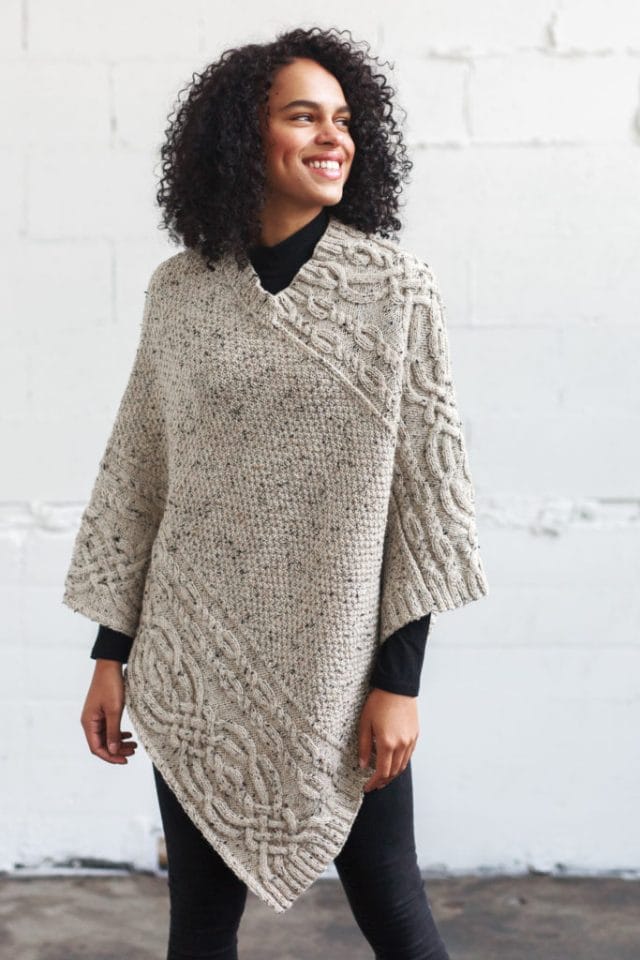 And lastly, the only not-quite-sweater pattern is Dara by Ksenia Naidyon, which is basically the coziest blanket that you can wear on your body! Covered in Celtic-inspired cables and Moss Stitch, this giant poncho looks like the best thing to wrap up in on a cold day.
Check out all the patterns on our site to see schematics for each one (above is Oshinkoshin, with its cool shaped saddle). All the chest circumference measurements go up larger than 61″ at least, and some go up larger than 70″. All the patterns are designed for worsted or heavy worsted weight, for the squishiest of cables! Check out our Learning Center if you need any help with cables!
Chalet is available as both a print book and an eBook, as well as individual pattern downloads.