This post is a love letter to Wonderfluff, our oh-so-lovely bulky Baby Alpaca/Merino yarn! Two sweaters finished and a bunch of cute accessories to come; we can't get enough of this super cozy yarn.
I finished TWO sweaters in Wonderfluff over the Thanksgiving break! I am so thrilled with both of them and can't wait to wear them EVERY day. The first is my Pontos Cardigan (pattern by Hillary Smith Callis on Ravelry) in Hare Heather. Super soft open mesh with cute pockets and raglan sleeves, this is basically my dream cardigan. The only mods I I made in my version were to knit full length sleeves and stockinette pockets rather than the mesh pockets called for in the pattern.
I will say that while I love the finished knit I had an extremely hard time with Hillary's instructions after the sleeves are joined to the body and had to resort to some Macgyver-esque knitting tactics that may, or may not have devolved into some mild cursing. I would only recommend this pattern to a seasoned knitter who's able to do some guesswork and on-the-fly adjustments to get everything lined up and decreased properly. Even though the pattern was on the tricksy side, the combination of open mesh stitch and alpaca make for the ultimate cozy-yet-breathable layer. I'll be keeping this cardigan on the back of my chair here are the office for days when the air conditioner is feeling peppy and the office turns into an arctic chill-zone. I would love to knit another pattern in a chunky lace pattern because Wonderfluff doesn't stretch or sag like other Alpaca yarns, instead it retains it's characteristic lofty bounce, perfect for maintaining stitch definition.
Sigh… can I have pocket envy for my own pockets?! 
My second sweater is Carrie Bostick Hoge's Sea Pullover in Wellies Heather. I spotted this pattern in Swoon Maine and knew I had to cast on for one of my own ASAP. Both this pullover and the Pontos Cardigan above took just six balls of Wonderfluff each making these quick and economical projects out of Baby Alpaca yarn.
I finished this sweater about a month ago and have worn it every single evening since. It's the first thing I pop on when I get home from the office and I've definitely fallen asleep wearing it more nights than not! Wonderfluff's beautiful halo does double duty and repels dog hair, accidental tea spills and all manner of other debris that other sweaters seem to attract with a vengeance. I would even go so far as to recommend this yarn for fancy kid knits because it holds it's shape so well and stays so clean (with the caveat that the recipients know how to properly care for handwash-only sweaters, as always)!
Have a few balls of Wonderfluff but don't want to commit to a whole sweater? We have some great free accessory patterns ready and waiting!
The Free Checked Cowl Pattern uses four coordinating colors so you can easily mix and match from Wonderfluff's cute colors to match your wardrobe!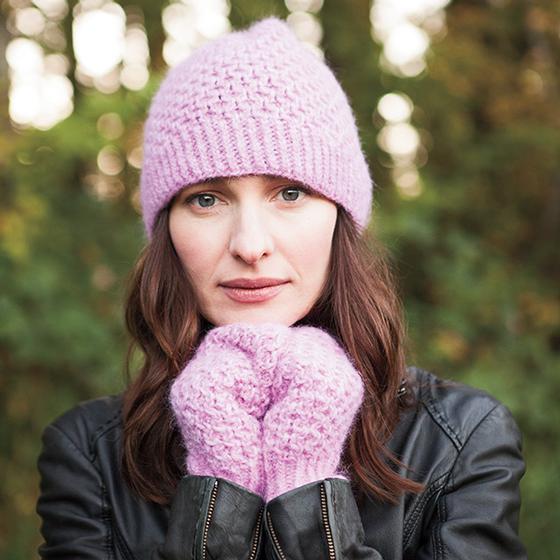 Emily Kintigh's free Ultra Cozy Hand and Mittens pattern uses two balls of Wonderfluff for a super cute match set, perfect for chasing away chilly weather. I love the idea of knitting a set for myself in Cobblestone Heather with a Bare pompom on top! I hope these patterns inspire you to pick up your needles and whip up a few projects in our new favorite yarn! If you've already got a WIP going or just finished a project we'd love to hear about it in the comments.
Save