In my humble opinion, handmade socks are the perfect project  – they can be as simple or as complicated as you want them to be, they're small and portable so they can be worked on anywhere, a typical pair of socks takes less than 100 grams of yarn and, best of all, the end product is something everyone can use. Now is the best time to get in on the fun – our fabulous Felici sock yarn is now on sale!
Felici holds a very special place in our hearts – this wonderful stripey yarn is super soft and our limited edition colorways are so fun to create (and name!). You can knit up crazy colorful socks or more subdued ones – either way, they'll keep your feet toasty warm. Plus Felici is great for all kinds of other projects too – hats, baby sweaters, mittens – even cowls and scarves. Save 30% on all colors – but hurry! Since all of the colors are limited edition, once it's gone, it's gone for good!
So now you have your skeins of Felici and want to make some yourself some socks. Where do you begin? Well, we recommended checking out the latest edition of our KP Classroom – Sock School!

Learn to knit a pair of socks (with yours truly) in our Go Your Way Socks Class. Download the free pattern, choose from Top Down Socks or Toe Up Socks and you'll be happily knitting your first pair of socks in no time!


(Note: While I use our Hawthorne yarn for these socks, Felici can easily be substituted. Just make sure you check your gauge!)
If you've knit a pair or two and are looking to take it the next level, we'd recommend trying out Two at Once, Toe Up, Magic Loop Pattern. I knit almost all of my socks 2 at a time because that way I don't suffer from Second Sock Syndrome (as coined by the marvelous Stephanie Pearl-McPhee), which is problem many knitters suffer from on their sock journey. Knitting socks toe up is great for making sure your socks have the perfect fit, as it's easy to try them on as you knit.
Need to stock up on supplies? We've got you there. Check out our Sock Tool Kit with everything you need to knit up your socks, including double pointed needles, stitch markers, sock blockers and even a cute little project bag to hold your sock WIP when you're out and about.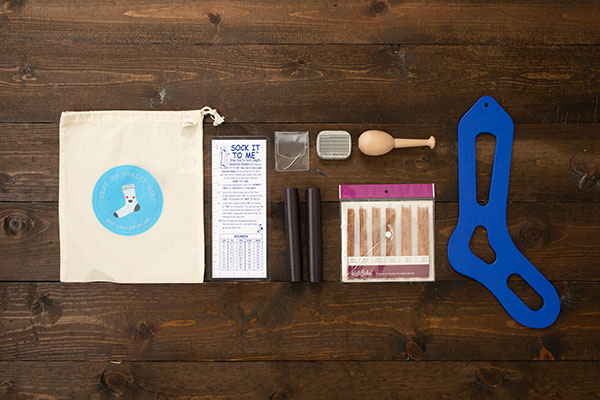 With Felici and our Sock School recommendations, you'll discover the absolute joy of wearing handknit socks!