We've been working with knitwear designer Jenny Williams for almost ten years, and what we appreciate most about her is her versatility. Jenny is an excellent designer in many different styles. She designs across all categories, from dishcloths and scarves to socks and lace.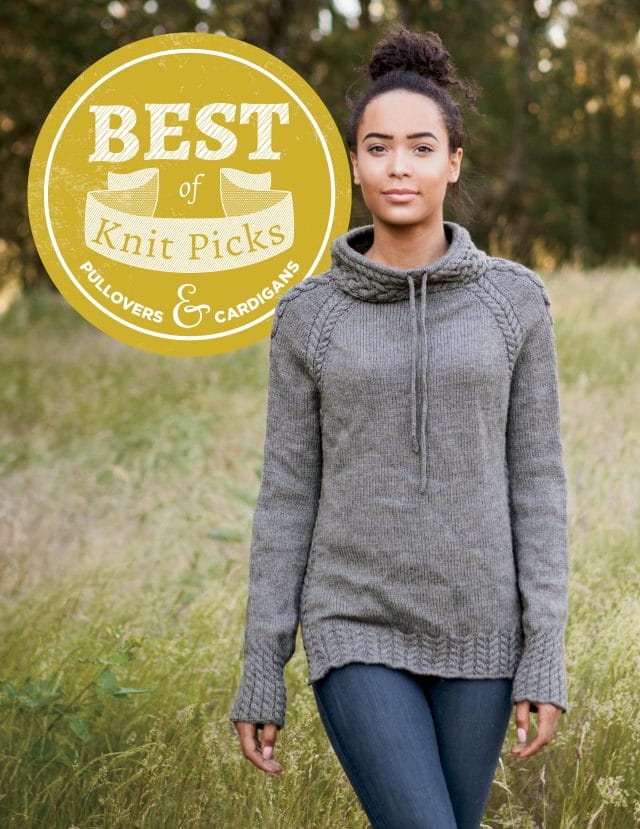 We've worked with Jenny a lot this year. Her Harley Pullover pattern was recently featured on the cover of our Best of Knit Picks: Pullovers & Cardigans book, and she had TWO lovely lace wraps patterns in Sojourn: A Knit Lace Collection — the Eden Lace Shawl and the Jardins Des Fleurs Shawl.
We snagged an interview with Jenny so we could learn a little more about this talented designer.
English or Continental? My own weird version of Continental. I could never get the tension right wrapping the working yarn through the fingers of my left hand. So, for each stitch, I pinch the yarn between my thumb and index finger, carry it over the needle, and drop it. It makes my tension very even but tends to be looser than the average knitter. People often need to go up a needle size or two to match my gauge.
Cables or Lace? I like lace but I adore cabling.
DPNs or Magic Loop? Thank you, thank you, thank you to whoever started Magic Loop! I'd be lost without it!
Yarn: Solid or Variegated? Because I am a freak for cables, solid is the only way to go.
Socks: Toe Up or Top Down? Toe Up, because you can make them fit perfectly.
Needles/Hooks: Wood or Metal? My beloved Options Wood Circulars from Knit Picks, which I got so long ago they were called Harmony Woods.
Harmony Woods! That's a blast from the past.
Wool, Cotton, Acrylic, Alpaca, Cashmere, or Silk? Anything soft, with excellent stitch definition. I recently worked with silk, which is fussier – splits more easily – but the results are stunning and so worth it.
What was your first design, and how do you feel about it now? Heart Party Shrug for Petite Purls online. It is dear to me because my best friend's daughter modeled it as a little girl. Now she's all grown up!
What is your favorite design of yours with Knit Picks, either with IDP or in a collection? Why? McKenna Cardigan. I'm happy with the overall cohesiveness of the design; the way the cables branch at the waist & elbow, and the way this flatters every size. I like the variety of texture. The Tanbark Stitch came from Barbara Walker's Charted Knitted Designs – a classic stitch dictionary that can't be beat.
What's your current favorite KP yarn? Why? I have so many! If I had to pin it down, I'd say Gloss, in any weight. The feel (hand?) is delicious!
When/how/why did you first learn to knit/crochet? My gramma taught me when I was about 8. Then, when I was in college, my mom got me started again, over the phone. Which explains why I hold my yarn weirdly.
Where/how/why did you first start designing? I was inspired after reading about the amazing Elizabeth Zimmerman, who began designing in her 40's. I used Vogue Stitchionary 2 to design a cabled pullover for my son. I was so thrilled with the results, I couldn't stop!
What does your stash look like? (I know, this is a personal one!) Truthfully, 90% Knit Picks. The price & quality cannot be beat!
What is your favorite thing to knit/crochet? Why? Strand work (Fair Isle) goes so fast – just one more row … just one more row.
What is your favorite thing to design? Why? A cabled garment. I love choosing different cables that blend well; with either similar elements or contrasting ones. Trying to give the piece a unique, and yet, classic feel. Pulling the whole design together with a common element like a slipped stitch.
Your biggest yarn/knitting/crochet-related pet peeve? If I had a nickel for every cable needle I've lost …
What do you wish you had known when you first started knitting? That, with time, I would get much, much better at it. Lack of skill and confidence can be so painful to overcome. You need to allow yourself to be bad at something (anything) for a while, before you can get good at it. Also, if you need to rip back – just do it and get it over with! Don't let a mistake stall a project indefinitely. You'll be much happier when it's right.
What do you hope to design in the future, or where do you want to go with your designs? I want to buckle down and write a collection. It will include many different techniques and types of projects. I want to provide variety for knitters like me, who get bored easily. Knitting is so therapeutic. We just need to keep it going.
How can our readers find you online? jennywilliamsknits.com
Thank you for taking time to chat with us, Jenny!
Want to see more? Browse Jenny Williams patterns, including her recent Clever Canine Cushion pattern for our recent Pawtastic collection, or read more of our designer interviews.