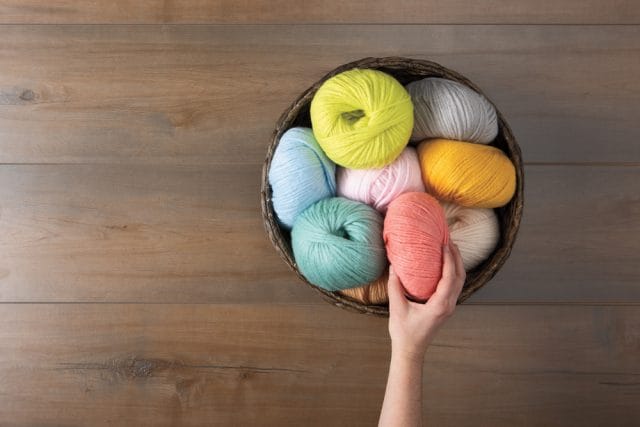 Snuggle up with downy drifts of cotton! Snuggle Puff is an amazingly lightweight heavy worsted or Aran weight cotton yarn made possible by blowing cotton fiber into a nylon mesh. Without the rigid structure of spinning and plying, the resulting yarn is amazingly lofty, showcasing Pima Cotton's beautiful drape and huggable softness. Snuggle Puff is perfect for wool-free accessories and garments for babies, children, anyone with extra sensitive skin, and cotton fans of all kinds. The best part? It's machine washable too!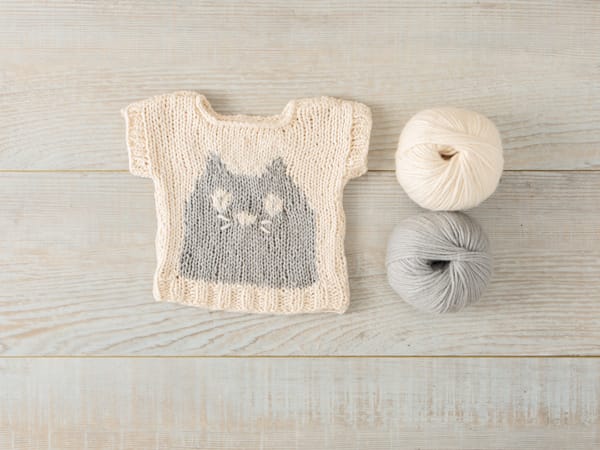 If you've tried Wonderfluff, our blown-in Alpaca blend yarn, Snuggle Puff is our cotton version of this beautiful yarn. With that in mind, Hannah knit up Claire Slade's Mini Meow sweater pattern (the kiddo version of our super popular Professor Meow Sweater) in Lamb and Bunny.
Alison has made another of her striped sweaters for a new baby in Hatchling, Lamb, and Bunny. While there's no written pattern for this (Alison is notorious for making up her own patterns on the fly), it's a great example of how needle size can create different fabrics with the same yarn in different projects. One of our favorite aspects of Snuggle Puff is the gauge flexibility. The Mini Meow sweater was knit on size 10 needles for an airy, open fabric. Alison's baby sweater, by contrast, was knit on size 6 needles at a much tighter gauge for a beautifully dense yet lightweight fabric. We love this yarn at either gauge and highly recommend swatching to find your personal favorite fabric.
Heather has crocheted a couple of hats using Snuggle Puff, and she loves using this yarn for crocheting. Its softness makes it the most comfortable cotton-based yarn she has used for crochet, and its structure means that there are no snags on her hook as she works.
For the hat shown here, she used Julie King's High Tide Beanie pattern from the book Crocheted Beanies & Slouchy Hats, using an I (5.5mm) crochet hook and Snuggle Puff in Polliwog, Chick, and Platapup. Because the yarn is a larger weight than the pattern suggestion, the hat is extra slouchy and super comfy. She even made a pom-pom using Snuggle Puff and everyone in the office thinks pom-poms are way cute when made with Snuggle Puff.
We love Snuggle Puff so much that we want you to try it. With that in mind, we are offering a FREE ball of Snuggle Puff for you to try for a limited time. The offer ends 4/3/19 and the details are as follows:

For a limited time, receive a free ball of Snuggle Puff in the color of your choice with your order of $75 or more. Here's how:
Add $75 to your cart.
Add a ball of Snuggle Puff to your cart.
Enter promo code SNUGGLE19 at checkout.
Offer ends 4/3/19.