Our latest Special Reserve Collection, CotLin Reflections, is everything I love in yarn. Inspired by the iconic hues of Indigo dyeing traditions, the collection was designed to highlight the stunning contrasts between snowy white fiber, indigo blue, and all those lovely shades in between. And boy, does it! Reflections is downright gorgeous, and the fact that it's a summery cotton and linen blend just makes it absolutely perfect in my book.
As a cotton yarn lover with lots of solid colors in my stash, I often find myself wishing for all of those gorgeous dye effects I most often see applied to traditional animal fiber yarns. So CotLin Reflections is just a fabulous breath of fresh air. Solids? Yep, of course. Hand-painted hues? Sure. Speckles? Yes! A combo of all three? GIVE THEM ALL TO ME.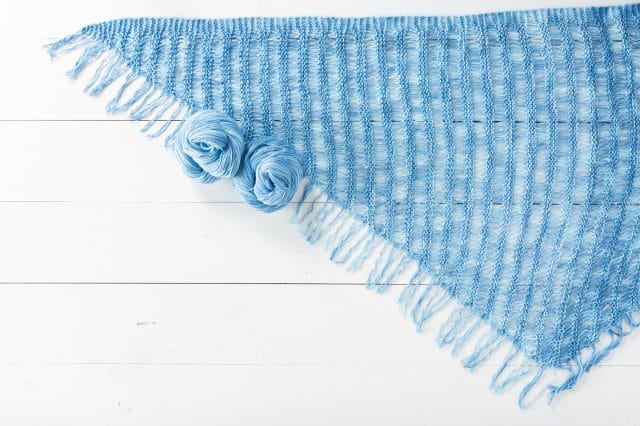 The Sunshower Shawl (a pattern you can download for free!) looks so fresh and springy knit in CotLin Reflections. The colorway Stratus reminds me of an afternoon summer sky. And this shawl, which features dropped stitches and loopy fringe, is the kind of easier project I can get behind!
But here's the thing about CotLin Reflections: it's a Special Reserve Collection. Which means … it's only around for a limited time! So get it while the getting is good, my friends!