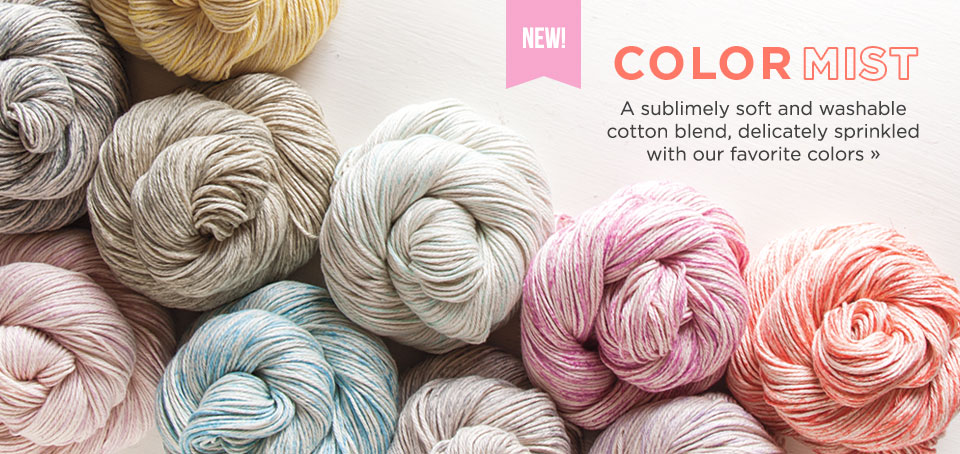 From one speckle fan to another, our new Color Mist yarn stolen my heart and taken over my stash! Our favorite cotton yarn, Comfy, has gained a whole new life with this stunning dye effect and oh-so-soft color palette.
We have so many project ideas perfect for this new addition to our lineup! Market bags, tanks, afghans, kiddo toys and even large, drapey shawls would look absolutely stunning in Color Mist. Machine washability meets super soft comfort with a carefully hand-picked color palette.
Stacey and I immediately grabbed enough yarn to make blankets and managed to release two free afghan patterns the same time this yarn launched (trust me, that's some furious crocheting happening behind the scenes!). Left is the Seabreeze Afghan which shows off the tonal shift between Waterfall, Cloudburst and Tidewater with the simplest stitch pattern. Right is Stacey's super fun Serene Waves Throw in Tidewater, Sweet Plum, Cloudburst, and Vermillion. I love how soft Color Mist is and it's perfectly plied for crochet (no splitting!). I expect each of these afghans and any project in this yarn will hold up beautifully to heavy wear and repeat washings in the machine making this the perfect yarn for baby projects!
How cute is this yarn!? I can't wait to see all the projects you lovely crafters dream up in these great speckled colorways.
Save
Save