Normal
0
false
false
false
MicrosoftInternetExplorer4
Hey, have you heard about all the books Knit Picks has? (or
will have?) Like Knit One Knit All by Elizabeth Zimmermann.
As a knitter I love books!   I have so many books in my library – but is enough ever enough?  NO!  Since many of you like books too, I've been
searching!!!  Over the internet, book
catalogs, and anywhere else that I can find some "can't live without" books!!  It's really exciting
what I've found. Check out all the books in the new and upcoming books section of Knit
Picks Website!
Here's a couple of my favorites:
Knitwit – A collection of fun and playful patterns for
twenty knitted toys from designer Katie Boyette. Filled with a unique
cast of characters. They are absolutely adorable!  I see one in my grandson's future! (hey, if you like these, then check out More Knitwits, which is coming out in September!)

Harvesting Color  –  This book helps you to learn more about the process of using natural dyes to color your fibers. I've been dabbling in hand-dyed yarns, what a sense of accomplishment it gives you!  You should try it!

And wow all the upcoming books!!!  Here are a couple that's due out this month.

Wendy Knits Lace – Wendy Johnson demystifies lace knitting by thoroughly
explaining the basics in an easy to understand manner that will have you
knitting lace in no time.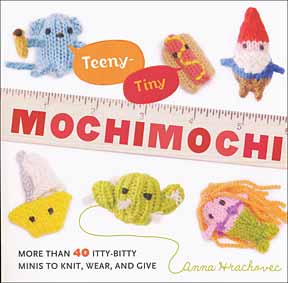 Teeny Tiny Mochimochi – From the extremely popular Knitting Mochimochi, toy knits designer Anna Hrachovec brings you even more cute in the form of mini-sized toys!
Oh I could just go on and on, but you should check them out for yourself.  Right now, just looking at the books while writing this blog makes me want to start shopping! You know the book sale (40% off) is on for just a few more days!