So, In my post Fana, Faroe or Fair Isle? I asked for your opinions on what my next project should be. After reading through the comments, I realized that I was really captivated by the Icelandic yoked pullovers that were suggested. Not only were the geometric yoke patterns really interesting, but I realized as well that it would be a perfect excuse to do a stranding project with more than two colors in a round!

This year, my hubby and I spent a week in the booming metropolis of Maupin, Oregon. While there, I picked up some locally produced wool that was just screaming to be… something. I'd thought of a lopi style pullover, since the yarn was a bulky single. Owing to Oregon's relatively mild climate, though, the yarn was considerably softer than its Icelandic counterpart. Even still, I knew that the yarn was destined to become some rugged bit of outerwear; reflecting its high desert origin was a given.
But I didn't immediately make the Icelandic connection. I mean, it's not like the two places have anything in common, right?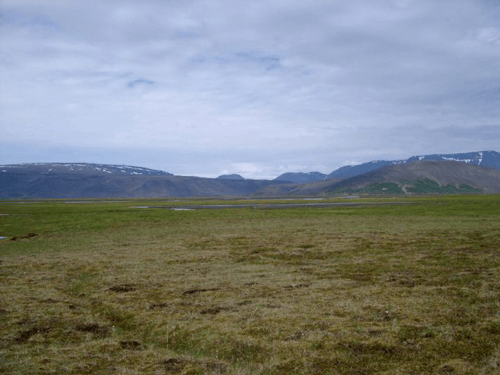 I finally did make the connection – and as soon as I got home on that Thursday, I wound up my yarn and cast on.
I have to say, multi-strand stranding is fun. It felt very much like I was working regular stockinette in one hand and working a Latvian Braid in the other, as I twisted the two accent colors around each other. The wrong side is actually quite tidy because of that, and not nearly as bulky as one might expect.
And, in case you're wondering what that looks like in process, I did a short video to demonstrate the technique on a hat:
[]
And here's a little chart of the repeat, if you're so inclined to try.

I also enjoyed the geometric patterning common to Icelandic knitting. I got inspiration from lots of patterns and projects on Ravelry, and ultimately went with a pretty basic 'net' looking pattern that showed off the fun desert-inspired colors of the yarn.

I even addedn in the Faroese 'Hammer' motif on the yoke and hood.

What I definitely did differently was add a steek at the neckline and a patterned hood. This was for two reasons – high necklines make me claustrophobic, and I didn't want to end up with lots of extra yarn! It was also a way for me to mess around with colorwork short rows, because I think that's just fun.
Not bad for ten days' work!
I'd bought this sweaters' yarn many months ago, long before we introduced Full Circle. But now that we have our own (limited edition!) single-ply wool yarn, there might just be another Icelandic style pullover in my future. I'm already thinking about colors…

I think Full Circle would be a perfect yarn for this type of sweater – it's lofty and warm, and much softer than traditional Lopi yarns. I know that if I really want to do another sweater, I'll have to grab the yarn before it's gone. Ack!
But now the big question – what's next? Do I run straight into another Icelandic pullover, use the Telemark I got during our cyber Monday sale to make a Fana sweater, make yet another purple sweater, or…? Decisions, decisions!