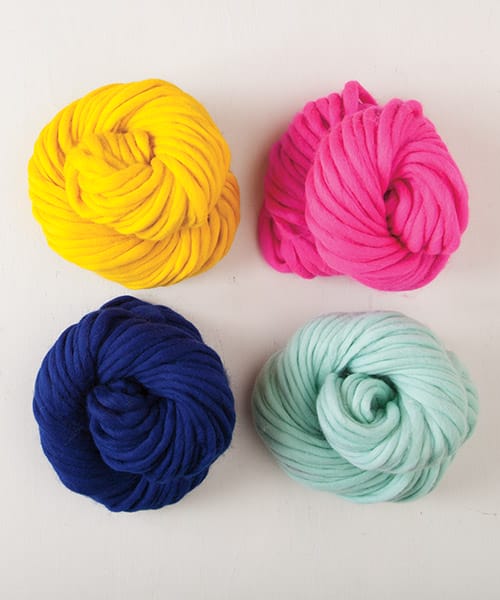 If you know me, you know I love big yarn! That's why I was so excited when we took our already sizeable super bulky yarn, Tuff Puff, and super-sized it into Super Tuff Puff, a gigundo (a technical term) yarn that gets an astonishing 1.5 stitches to the inch. It's perfect for projects with strong visual punch. Simple stitch patterns really stand out in it, and it knits up so fast it's a bit dizzying. I knit these two cowls based on Olgajazzy's free pattern Cable Braided Necklace, and each strip took me about 45 minutes, or one re-run of Gilmore Girls each. I wove them together as directed and used a whip stitch to sew the ends to each other.
The gray version is knit with 2 hanks of Silver, and the bi-colored is knit with one hank each of Mint and Marina. Obviously I had to modify the pattern a bit, since it's originally meant for fingering weight yarn! My gauge was 4 sts and 6 rows = 4 inches, and I used our Jumbo Interchangeable Birch Wood Circular Needle Tips, size 36. For the first strip, I followed the directions, but only did four repeats of the 8-row stitch pattern, and then knit 12 rows in stockinette and bound off p-wise. I used up all of the hank. For the second strip, I purled one row, knitted in stockinette for 11 rows, and then repeated the stitch pattern 4 times and bound off. I had about two yards left over from this one, and used it to sew the ends together.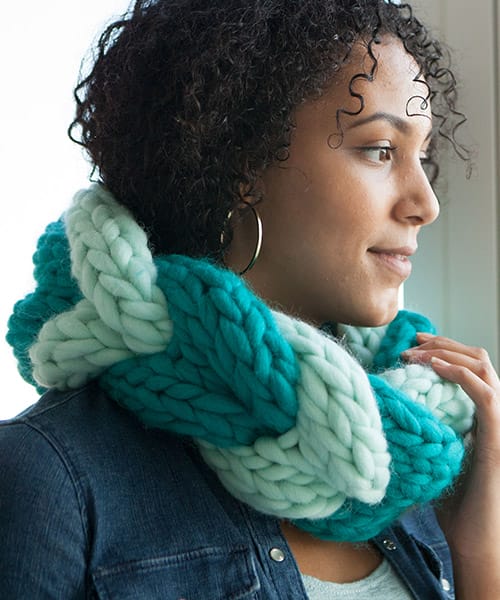 These giant cowls are super cozy and a massive (ha!) fashion statement. With yarn this big, a little goes a long way!