October always reminds me that its time to get really thinking about Christmas gifts!  This year I started brushing up on my knitting skills, and I've decided to knit a little something for everyone. I'm still a beginner knitter, so I need to pick things that I know I can accomplish before the holiday. Here are a few patterns I'm dreaming of making for Christmas this year.
Quick and Easy Gifts
I always like to have simple gifts for my friends. Something that doesn't take too much time or money but its still something special that I made just for them. Since I've been a big fan of our dishcloth patterns, I was thinking a simple set of 3 dish cloths would be a perfect gift! If you are really new to knitting I suggest you check out our Learn to Knit Club, Level 1: Dishcloths set. It comes with everything you need to get started knitting. Plus the 3 colors in that kit make for the perfect holiday gift. Tie them up with a bar of your favorite handmade soap or wooden spoons to create a fun personalized gift.
If your looking for something a little more interesting you can always browse our Free Clean and Crafty Patterns section. I've had my eye on the Desert Arrow Dishcloth. Not only do I love the simple slip stich arrow design, there's a handy corner loop for hanging. Your friends and family will love to display this dishcloth design in their kitchen.
A Cozy Knit Gift
As soon as I saw our 15th Street Wrap FREE pattern I knew this was something I could make! It's a simple scarf shape but wider and longer, which makes it easy to wrap around your shoulders while reading a book. The color blocking is a nice modern twist that I know any one of my family members or friends will love. Its simple in design but big enough to make an eye popping "You made this?!" making it a perfect gift this holiday.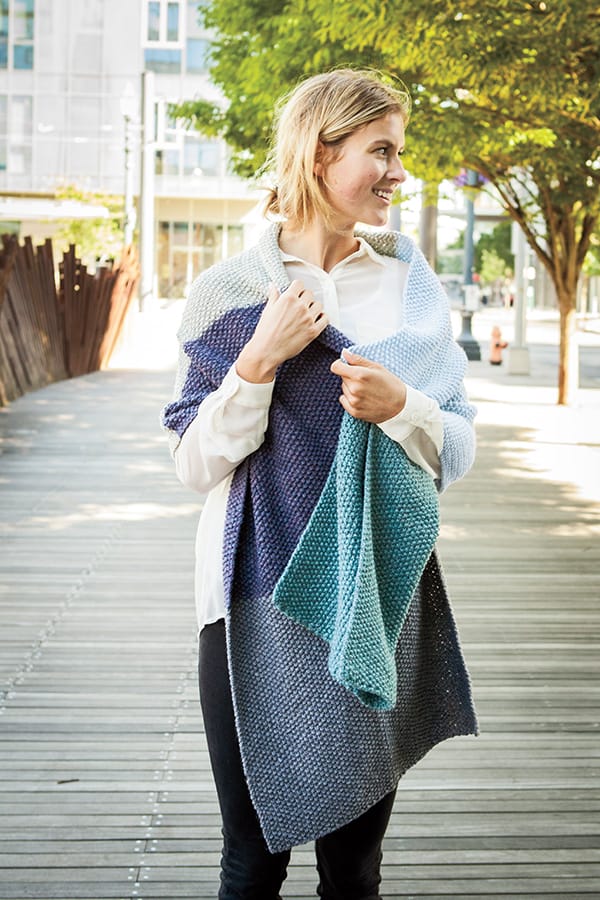 The Gift for Everyone!
Something that everyone loves and can never have too many of are knit hats! Its an essential winter accessory, and the most beloved gift. Our Learn to Knit Club, Level 3: Hat is the perfect place to start if you've never knit a hat before. Not only does it include everything you need to get started the handy instruction booklet comes with photo illustrations to help you every step of the way! The simple design and pretty Seaspray color looks great on anyone!
For a more advanced knitter, the FREE Marled Rib Hat pattern is perfect for you! Its classic rib design is appealing to both male and female friends. The Marled design is made with holding to colors of yarn together, making a more interesting color way. Go super neutral like these hats to appeal to everyone, or pick your favorite colors to make it more personalized.
Gift Details
To really make your handmade gifts pop polish them off with some professional details. Adding a sewn in label really makes any gift complete. We have a variety of sewn in labels on our website. Check out our Sassy Labels, Loving Labels, and Instruction Labels to add a personalized detail to your handmade gift. Our metal and leather labels would look great on the brim of a hat!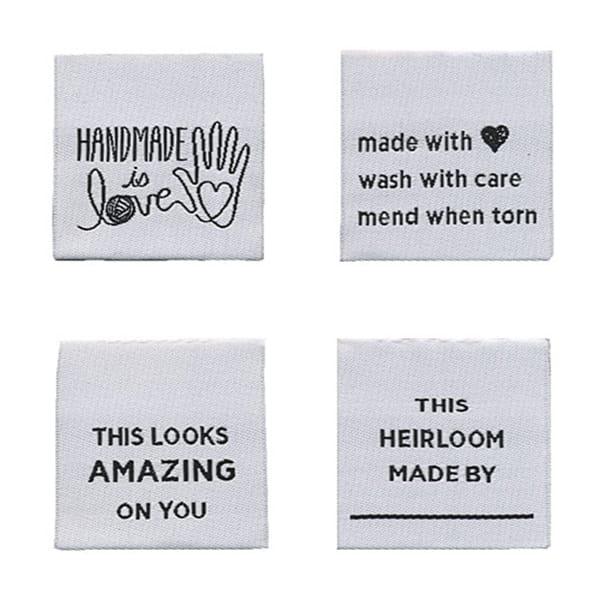 I'm going to take on one project at a time and hope I can make everyone something knitted this year. If any of you have suggestions for some quick and easy beginner friendly gifts let me know! Happy Gifting everyone!