Stroll, our sock (and shawl) superstar yarn is available at a discount this month! Fall is the perfect time to do a sock and accessory inventory. Need a refresh? Save 20% on most Stroll yarns and whip up the softest, hard-wearing hats, socks, mitts, shawls, and flattering lightweight sweaters at a discount!
The original Stroll line features a mix of sold and heathered colors for every occasion. There's a sweep of bright colors, perfect for baby gear, and deep heathers ideal for serious socks and sweaters. The Compass Cardigan for example, showcases the stitch definition of this fabulous yarn and the saturation of one of it's brightest colors!
Stroll Tonal features shifting colors that are subtle enough to highlight complex stitch patterns, but still add interest as you knit. Each skein has been carefully hand painted, to create an even and consistent distribution of colors. The Thrysos Yoked Blouse has a simple lace yoke with solid stockinette body and garter hems, perfect for showing off Stroll Tonal's soft colors with minimal distractions.
Stroll Hand Painted is the snazzy, fun relative at the Stroll Family reunion. Bright pops of color, zany color combinations and big old soft 100g hanks are a knitter's dream! Perfect for whipping up a small shawlette or pair of socks, a single hank is plenty of yarn for most small accessories. The Rainbow Wave Sock pattern shows off the range of colors in Big Top alternated with the coordinating Stroll Wonderland for an interesting effect.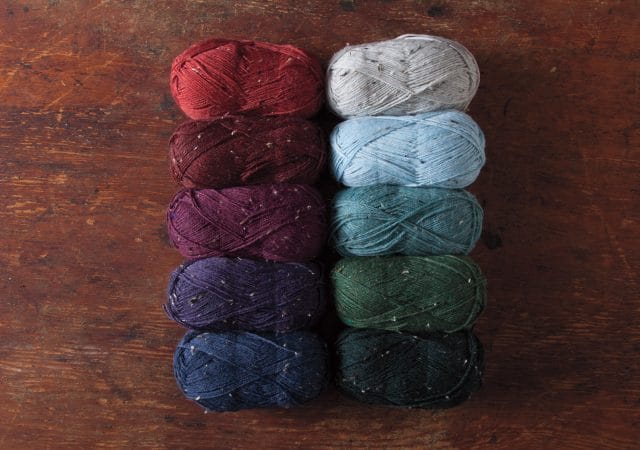 Lastly (and my personal favorite) is the stellar Stroll Tweed. These cute 50g balls feature neutral-colored nepps for projects with instant rustic appeal. Imagine, tweedy baby sweaters for a "little old man" effect, classic flecked socks, and hats with just enough added interest to keep you knitting through the toughest patterns. The Braided and Beaded Scarf pairs two colors of Stroll Tweed with fun accent beads for a super cozy accessory, perfect for dressing up or dressing down!
Whether you're in the mood for rustic tweeds, classic heathers, soft shades or wild bursts of color, Stroll is our most versatile yarn family with tons of options. Remember, this yarn is only on sale for this month so make sure to check out the full range of colors while you can!
Save
Save
Save
Save