Spring is SO close, we can practically taste it! We're gearing up for lighter, brighter days, and our latest creations obviously reflect this shift in our creative mood. With a proverbial spring in our step (see what we did there?), we're happy to introduce our newest (and most colorful) needles as well as our latest yarn-related endeavors with all of our wonderful crafty friends (you!).
New Needles
Well, helloooo gorgeous! Meet our new Options Interchangeable Prism Aluminum Needles—perfect for adding a splash of color to your knitting! Aluminum metal warms to your hands as you knit, and the slick metal surface allows stitches to slide off with ease. Plus, the rainbow of colors will help you keep the right size needle in hand at all times.
---
New Yarns
Our first-ever foray into recycled yarn, Upcycle Yarns are limited-run, single-batch skeins that give yarn a second life. These complex heathered shades are made from fibers that would have otherwise gone to waste. Available in worsted and bulky weight for the wool purist, plus an über-luxurious DK weight alpaca/silk/Tencel blend for those who desire a more sumptuous feel, these waste-reducing skeins are here to breathe new life into your stash!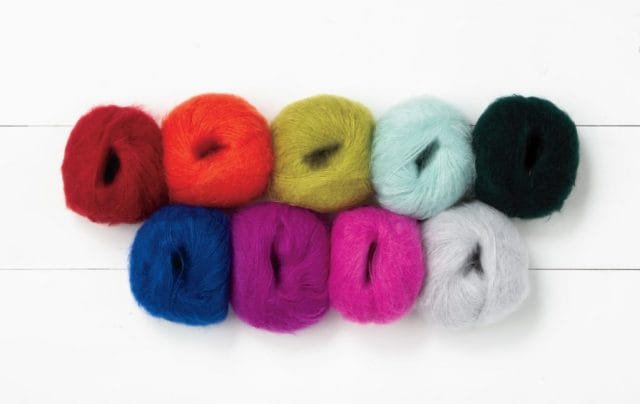 Candy colored and light-as-air, these new colors of Aloft are inspiring us to marl ALL the things! Need a little mohair pattern inspiration? You'll find ample options for perusing in our latest knit garment collection, Better Together: Marled Knits.
---
New Knits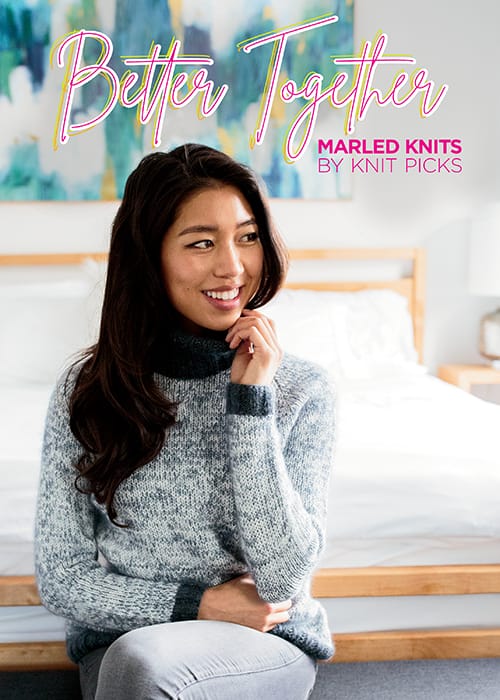 Double the impact of your knits by doubling your yarn! Hold two (or even three) strands of yarn together to achieve unique color and texture effects in these fourteen modern patterns. Some patterns feature the same yarn held together in different colors, playing with blending stripe designs and chunking up the weight, while others are made with two different yarns held together, adding a mohair halo to your wool base or mixing alpaca with Merino for double the luxury! Better Together: Marled Knits Collection will keep your needles busy with its wide variety of sweaters, accessories, and home décor projects.
Brighten your home with a fresh batch of rainbow-hued dishcloths, and learn a new stitch or two while you're at it! Our new Kitchen Kaleidoscope: Dishcloth Collection contains a year's worth of patterns that will keep your needles busy and your home feeling cheerful (and clean).
---
Needle Sale
Save 20% off all open stock needles! There's no better time to treat yourself to some new tips, straights, fixed circulars, or DPNs (or frankly, all of the above).
As always, happy crafting!