I love all things small – little bunnies, little cupcakes, little gnomes, and of course – little humans! Spring is the celebration of new life, so I rounded up a few of my favorite baby patterns.
Under the Sea Mobile – Five fun sea creatures make up this adorable mobile, perfect for distracting the wee one while you knit something for yourself
The Kitty Set – Charming beyond words. Can I please make these in my size, too??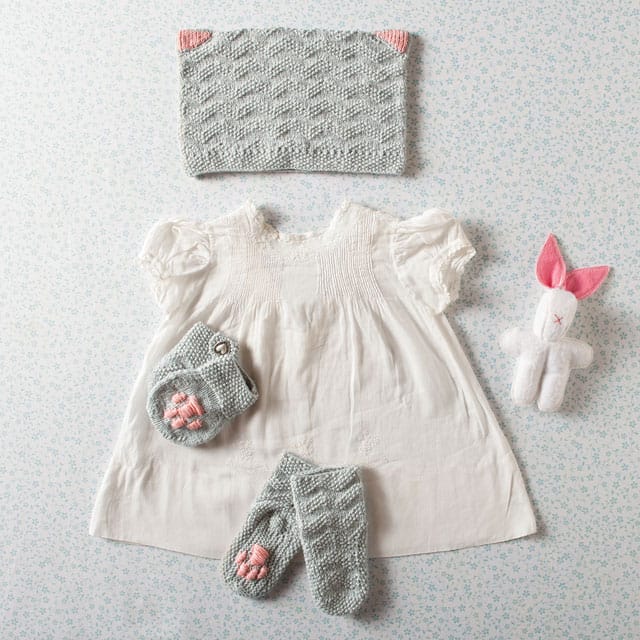 The Heirloom Layette set – ideal for baby shower gifts, christenings, and just plain adorableness
Welcome Knit Blanket – another lovely piece I wouldn't mind keeping for myself. Knit in our sumptuous Simply Cotton worsted yarn, it's the perfect snuggling accessory.
Bobby Baby Crochet Blanket – This textured baby blanket begs to be reached out and touched, cuddled, and treasured. With bobbles and ridges galore it is sure to be a tactile delight for the little ones, but even the adults can't help but reach out and explore this blanket with their hands.  

Crocodile Stitch Baby Booties – just in case it was getting a little too monochromatic for you, these fun booties are crocheted in our color-shifting Chroma yarn
Baby Knits Kit – Be ready for whenever baby fever – or baby shower season – hits with four adorable pattern books, gift tags and loving labels.
Knits for Everybody patterns – Sometimes you just want a simple pattern. This collection includes four basic patterns with simple, easy-to-understand instructions. Customize with stripes and color to add your own flair. Bonus: it includes sizes for the whole family, not just Little Junior!
Sweet Baby Gift Tags – add the finishing touch to any knitted or crocheted gift you plan on giving.  The tags also let the recipient know how the special gift needs to be cared for. All of the tags have a specific field for fiber content and care instructions.