One of our most versatile designers, Tian Connaughton is responsible for some of our favorite patterns — both knit and crochet. We've happily worked with her for 8 years, and look forward to many more collaborations.
Tian is all things crafty. She is a designer and technical editor working for major brands such as Knit Picks, Interweave, I Like Knitting, and I Like Crochet. She also spends time working with independent designers. She is the author of two books, Unlock Your Inner Designer: How to start designing and Pattern Launch Plan: Sell more patterns consistently without being sleazy. Learn more about both titles here – http://bit.ly/booksfordesigners.
What do all these roles have in common? They are all helping knitters and crocheters imagine the possibilities beyond simply practicing their crafts.
Recently, Tian sat down to answer a few questions so we could get to know her better.
English or Continental? I can do both, but English is my preference as it's what I learned first and am fastest with. I mostly use the Continental method for colorway.
Cardigan or Pullover? Definitely cardigan to layer up and transition between seasons in the Northeast.
Cables or Lace? Both, and together if possible.
DPNs or Magic Loop? Magic Loop. I learned my lesson after dropping a DPN on a flight, never to be found again.
Yarn: Solid or Variegated? Variegated because it provides so much interest within a simple stitch pattern.
Socks: Toe Up or Top Down? While I'm not a huge sock knitter, second sock syndrome is real; I just started with toe-up socks a little over a year ago, and I'm loving it. I'm enjoying playing with different heel constructions and pushing those single 50gram skeins in my stash to the max to eek out a pair of socks.
Needles/Hooks: Wood or Metal? I used to hate wooden needles because the yarn dragging against the needle and hook would feel like fingernails on a chalkboard. So for years, I worked only with metal. Then I discovered Knit Picks' wooden needle and hook sets. These are what I use primarily now.
Wool, Cotton, Acrylic, Alpaca, Cashmere, or Silk? All fibers have a place and play different roles in our knitting and crochet. While I do enjoy the luxurious feel of silk and cashmere, my go-to fibers these days are the standard wool and acrylic for their durability nature, which are perfect for the types of projects that are holding my attention these days.
What was your first design, and how do you feel about it now? Embarrassingly, my first design was a pair of fingerless gloves. At the time, I was so thrilled to have created the pattern. While this design is more than 10-years old now and my writing and design style have evolved significantly since then, I'm very proud of the design and all it represents – taking that very first baby step towards designing full-time.
What is your favorite design of yours with Knit Picks, either with IDP or in a collection? Why? Ooh, tough question. Can I pick one knit and one crochet? My favorite knit pattern is the Freeport Cardigan because it reflects so much of my style – classic shape with classic cables. You can make this today and it will still be in style well into the future. My favorite crochet pattern is the Simple Cowl Neck Shawl because of its interesting construction, which is something I like to bring into crochet.
What is your favorite current Knit Picks yarn? Why? My favorite current Knit Picks yarn has got to be, without a doubt, Hawthorne. The weight (fingering) is perfect to just play with one or two skeins for a knit or crochet project. But what I love most is the wide range of colors available that you can mix and match easily. The versatility of the colorways make this a fun yarn to design with, but most importantly, it is a lovely yarn to just sit on the couch and stitch on a project just for fun.
When/how/why did you first learn to knit/crochet? I learned to crochet in 2001 from a co-worker during my corporate days right after getting married. We would sit in the break room at lunch and after many weeks of watching the fascinating ways her fingers would glide effortlessly over the stitches, I asked her to teach me. Immediately I was hooked (pun intended). Years later, I found knitting while watching HGTV's Knitty Gritty.
When/how/why did you first start designing? I'm never satisfied, so once I learned the basics, I needed more so I sought out more information and stitch patterns. After seeing an episode of Knitty Gritty with Shirley Paden, a black knitwear designer, the seed of designing was sown (representation matters). I was inspired by seeing her do this thing I didn't even know was possible. Within a year of learning to knit, I was designing. From there, this whole journey stemmed into tech editing, teaching in person, creating online courses, and writing books.
What does your stash look like? (I know, this is a personal one!) My stash looks like the inside of a small yarn store. I could probably knit for the rest of my life without having to buy another skein … but that won't happen. I have a home office/craft room with shelves in the closest with a large quantity of yarns organized by weight with single skeins of fingering weight on bookcases and in wire bins on my desk for inspiration and decoration. I don't think yarn should be tucked away but be on display like pieces of art.
What is your favorite thing to knit/crochet? Why? My favorite things to knit and crochet right now are shawls because I can just grab a skein or two from my stash and go to work without worrying about not having enough yarn or matching colorways.
What is your favorite thing to design? Why? I don't really have a favorite thing to design. It mostly depends on my available time and the time of year. Right now, as we're heading into warmer weather and summer vacations, I'm playing with new shawl and accessories designs – small items and single skein projects that are easy to pick up and put down, perfect for traveling.
Your biggest yarn/knitting/crochet-related pet peeve? My biggest pet peeve is not having enough time to knit and crochet all the designs in my head and all the great patterns put out by other designers.
What do you wish you had known when you first started knitting/crocheting? When I first started knitting and crocheting, I wish I'd known about how obsessed I would become, not only with stitching, but with acquiring yarn.
What do you hope to design in the future, or where do you want to go with your designs? In the future, I hope to design a whole book of patterns. I've tech edited whole books, so I understand the basic structure of the process. I've created digital collections containing 4-6 patterns, but a whole book in print on the shelves of the local Barnes and Noble is where I want to go next.
Anything else we need to know?
To keep up with what I'm doing, check out the blog (bit.ly/knitdesignsbytian), see designs on Ravelry, learn about tech editing services for knit and crochet (bit.ly/TechEditorForHire), follow on Instagram (https://www.instagram.com/knitdesignsbytian/)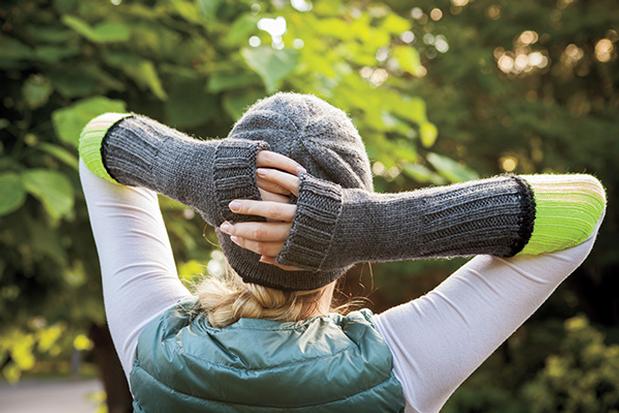 Thanks for the interview, Tian!