I recently finished a new cardigan (and I should get pictures one of these days, it's my favorite!) but now I want to make another one.  Maybe it's been the cooler weather we've had out here this spring, but I've been grabbing one of my knitted cardigans every morning to throw on to go to work – and of course I need some new ones to add to my rotation, especially some lighter weight ones. So I'm debating between a couple I've had my eye on recently.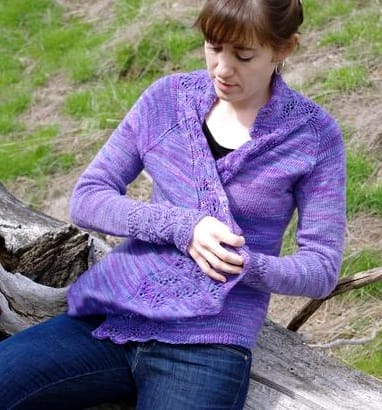 Jennifer Thompson's Star Gazing Cardigan has been on my list forever – I love the lace detail and the overlapping fronts.  It would be my first fingering weight cardigan. (eek!)  I have some Stroll Hand Painted, enough for a garment, so this would certainly be the most economical.
I wrote about this last week – the Fiji Cardigan from Crochet Custom Sweaters.  Again, a lightweight cardigan in fingering weight yarn – this time crochet!  I'm leaning towards Chroma Fingering in Paperback for a nice neutral sweater for chilly spring & summer evenings.
Alexis Winslow's Delancey has also been on my list forever!  This would be a warmer sweater but inspired by a recent KAL that Allyson Dykhuizen hosted on her blog, it has been moved to the top of my queue.  I just love it – it reminds me of baseball pinstripes so I know I want it in Capra Cream & Scarlet for my beloved Red Sox. (Plus, since it's one our Custom Kits, I can get a nice discount on the yarn).
(image from Ravelry pattern page)
Finally this is one I would be more likely to wear in fall but getting a head start on it might not be a bad idea.  This is Becky Herrick's newest sweater Boyden & I just love it – everything from the fit to the asymmetrical cable that runs up the side & continues on to the back and on one sleeve.  I have some Swish DK in Delft Heather in my stash that might work or I've been thinking about City Tweed DK in Basil – I'd have to swatch to figure out which would work best!
So there you have it, 4 sweaters I'm trying to decide between.  I'm torn because I love them all – what do you think?