Hey there! Welcome to "Customer Question of the Week", a new weekly
blog feature wherein our crack team of experts (okay, it's the KP staff)
answers your most pressing fiber-crafting queries. Have a ponderance or
problem you need solved? Email us at customerquestion@knitpicks.com. Even though we won't be able to respond to every person, your question may be chosen for this feature!
This week's winter-appropriate curiosity was answered by Stacey, our super IDP Coordinator.
Q:  "Which Knit Picks yarns work best for felting?"
A:  First of all, a quick definition: Felting (or fulling as it is also called) is the process of intentionally shrinking natural untreated fibers into a dense fabric using hot water and agitation.  Many people use this for projects such as slippers, bags, mittens, hats, toys, and housewares – anywhere you would prefer a thick durable fabric.  We have a couple of tutorials on how to felt your knitted & crochet projects – either by machine or by hand. 
We have several yarns that work great for felting.  Remember, you will want to use untreated yarns – no superwash! – and yarns that are made up of mostly natural fibers.  Different yarns (such as wool vs alpaca) and even different colors will felt at different rates, so make sure you do a swatch before starting a project!
Single ply yarns are some of the best for felting so our Full Circle Worsted and Bulky are perfect for felted projects. With the blend of Merino and Highland wools, you'll not only get very durable accessories such as hats and mittens, the fabric will be soft and warm through the chilliest of winter days.
Our 100% Peruvian wools are the most popular for felting – that is, Palette and especially the Wool of the Andes line (sport, worsted and bulky).  You can see this is great for projects such as bags, like Meghan Jones' Intwined Bag, which uses Wool of the Andes Bulky.
Alpaca fibers also felt extremely well – I've seen gorgeous felted projects both in Andean Treasure and Cadena.  A side note from personal experience:  Alpaca fiber tend to felt a lot faster than wool fiber, so keep an eye on that washing machine when you're felting!
Lots of people ask if our Chroma yarns are feltable, since it is a mix of wool (natural) and nylon (manmade).  The answer is yes they are!  While 100% wools are most popular for felting, yarns with a small percentage of nylon should felt just fine, though it may take a little longer.  (Which is where swatching is quite important).  You can see what IDP designer Mara Jessup did in her free Summer Stripes Water Felted Bottle Holder pattern.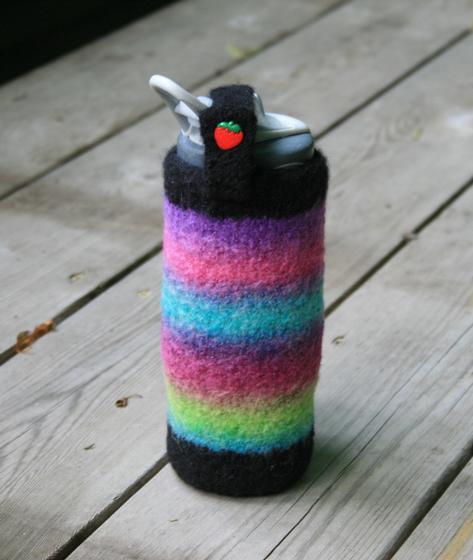 So there you go!  Lots of choices for feltable yarns – when choosing your yarn, what you'll mainly want to keep in mind is untreated natural fibers with no more than 30% manmade fibers.  Have fun!