Pair your next project with the perfect tool! We love these tools so much that we've taken the time to develop different styles to suit a variety of crafters. Today we're going to dive into some of our favorite tools, comparing and contrasting features to get the perfect fit.
Let's talk yarn bowls! If you find yourself knitting with balls of yarn or even yarn cakes fresh off the ball winder, these are must-have accessories. Not only are these gorgeous piece of art on their own, they also help you keep your yarn from spinning away as you knit or crochet. I use mine most frequently to keep my yarn corralled as I wind yarn onto my warping board from my loom. I love that the Yarn Bowls with Holes have those extra openings that you could use to keep your tiny balls of different colors separate, perfect for colorwork, intarsia or duplicate stitch projects!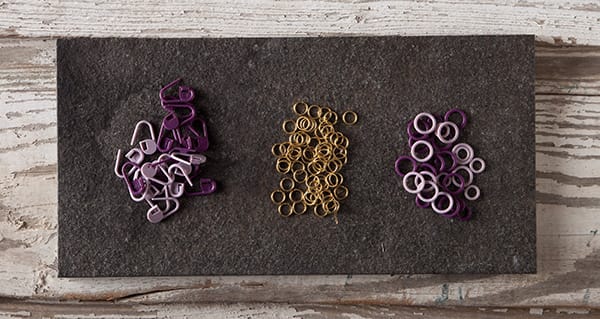 Now, stitch markers can be a contentious issue with so many feelings about different styles. The locking stitch markers are the most versatile. Not only can you pop them between stitches on your needles to track a spot within the pattern, you can also use it to mark stitches within the body of a fabric. For instance, I use the most often to mark my underarm decreases when I knit sweater sleeves. No more hunting and guessing at how far I've gone between decreases, it's definitely a time saver. The metal stitch markers are definitely the loveliest of our exclusive tools. I love their delicate scale and shine when I'm working lace. Lastly, the flexible markers are super easy to slip from one needle to the other, no matter the needle material. Metal stitch markers tend to shoot off my knitting if I'm not careful but these flexible markers stay where I want them. Plus there are a variety of sizes to suit different projects!
Pins are the unsung heroes of knitting and crocheting. Every project deserves to be blocked to it's full potential after all that hard work. I know, it seems like an unnecessary "picky" step but it can make a world of difference. Instantly even out that gauge, get sharp points and straight edges and, if you do any lace at all, you know that the project truly blooms after a good blocking. Our T Pins are a sturdy, perfect for sweaters, blankets and cotton projects that will put some strain on them with severe blocking. On the other hand, our u-shaped Blocking Pins are delicate double pins that are ideal for blocking lace. I tend to gently ease the legs apart before I push them into the blocking mats. This gives you a slightly larger pin area and, in my opinion, a slightly smoother edge. Both pins feature easy to grasp tops for quick removal. Because really, who wants to fiddle with all those pins when your project's finally dry? No one's got time for that.
Save