This year, I haven't been as excited about the holidays as I have in the past – I'm usually the one making all the cookies and sending all the cards but I haven't been as motivated this time around.  Part of it has been the fact I seem to be busier with other projects than I have been in previous years and part of it has been the sad stories on the news recently (I don't think I need to remind you of those). But mainly I think it's because this will be the first Christmas without my grandmother, who passed away last summer.  I was very close to my grandma and she was the first person who tried to teach me knitting and crochet when I was very young (even if it didn't catch on until much later) and over the last few years, it was wonderful to have this connection with her. We would tell each other all about the projects we were working on when I came to visit and I would always try to bring her some yarn from my stash for her to try out, since most of her yarn came from big craft shops. 
Every year, she would crochet a new afghan for her children and grandchildren and they are dear treasures to all of us. This year, as my way of keeping the tradition going, I decided to crochet an afghan for my mom.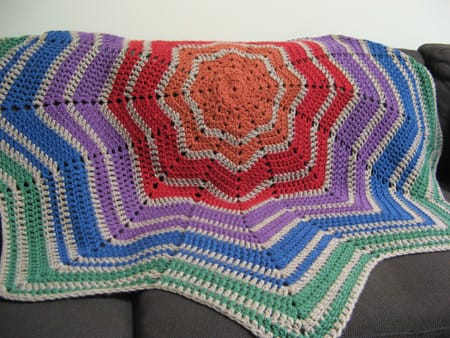 I loved working on this project – it was just so comforting to just double crochet round after round with squishy Full Circle Bulky and a big crochet hook.  The entire project took only a week – you have to love how fast crochet goes – and it kept my lap nice and warm as I worked on it throughout the chilly nights.
The pattern is one I've used 3 times now – a free pattern I found on Ravelry, Lyn's Round Ripple Baby Afghan.  It's just a nice mindless project and the color combinations and striping patterns are endless.  After our Cyber Monday sale, I ended up with 2 of each of the Full Circle Bulky colors Royal, Tomatillo, Hollyhock and Robin (I had 1 skein of Chrysanthemum in my stash). I decided to stripe it with 4 skeins of Latte, since that would fit in well in my mom's house and it worked out nicely with my muted rainbow choices. My striping pattern went a bit awry when I started running out of Royal (once again, I can't seem to start a project without first double checking I have enough yarn) but I think it turned out all right. And it is huge!  It's over 60″ from point to point.
I hope my mom will find as much comfort out of it as I did.  And I think my grandmother would approve of it as a gift.