Many knitters become frustrated when it comes to color selection. There are many reasons for this, but often the sheer volume of colors to choose from is the culprit. Add in the important task of choosing which yarn to use, and many knitters can become frozen in fear. It's not hard to become quickly overwhelmed! Of course, we try to make it easy by pairing well-designed patterns with the most appropriate yarn – in a beautiful (at least in our opinion) color combination. But what if you don't fall in love at first site? What if you like the pattern but don't know how to choose new colors… How do you go your own direction when it comes to color choices? Let us give you some inspiration – and encouragement! – for playing with color.
Playing with Color: The Tilework Afghan
Let's take the Tilework Afghan as an example. The original colorway was designed several years ago in a warm, earthy color palette. I think the design is lovely, but the colors just weren't right for me. I wanted something more modern and bright to fit my home's decor.
The first consideration when coordinating a new palette for your project is the yarn. For the Tilework Afghan, I decided to stick with the designer's original choice for yarn: Brava in worsted weight. Brava has a large palette of colors to choose from, and the premium acrylic fibers ensure long-wearing durability -very important in a house with two boys and a dog! There are of course many other yarns I could have chosen… Mighty Stitch is another easy-care worsted weight yarn that would make a great afghan. If I wanted something warmer and more luxurious I might have chosen  Swish, which is 100% Superwash Merino Wool (and my favorite wool yarn here at Knit Picks), so I could still toss my afghan in the washing machine for cleaning. Most important to remember if you're planning to substitute a different yarn is the weight – if you want your project to be the same approximate size as the original you'll need to use the same weight yarn.
Next, it's time to choose colors! I knew I wanted to use blue and grey, to compliment the colors in my family room where this afghan will be used. I started with the dark border that is the dominant color in the afghan, and chose a color in the same shade as the original.
Left: original border color –  Umber Heather
Right: my border color – Asphalt Heather

The original design featured two different tiles: khaki with a light yellow inset and burnt orange with a dark green inset. I wanted to make sure I captured the same feel in my design, so also I picked one lighter tile and one darker tile combination.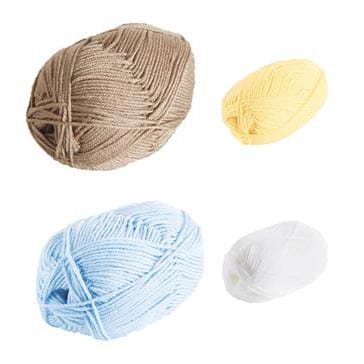 Light Tile
Top: original colors –  Almond/Custard
Bottom: my colors – Sky/White
Dark Tile
Top: original colors –  Persimmon/Dublin
Bottom: my colors – Silver/Peacock
One Pattern, Two Color Combinations
I hope this give you some encouragement to try playing with color on your next knit or crochet project! If you need some additional help, try our Personal Yarn Consultant. Simply fill out the form HERE and we'll get to work. Our Yarn Consultant can help you find the perfect yarn for your next project, substitute yarns in a pattern, or create a new color palette for your next project.
Psst! Love the Tilework Afghan pattern? It's now available as a Pattern Kit in two color combinations! Save 10% when you purchase the kit, which includes all the yarn and the pattern.
(L) Modern Baby / (R) Modern Slate
Happy knitting! (And crocheting. And spinning. And yarn dyeing… And… )