How many times have you fallen in love with sock yarn skeins that have been hand-dyed by a talented independent artist know as an "Indie-Dyer". Oftentimes, I am drawn to more than just a couple of skeins. I find myself wanting nearly everything that particular artist makes. I call it the "sensibility" of an artist.
Attending the two Sock Summits that have taken place here in Portland highlighted the concept of sensibility. Think of it as walking through a huge museum of Indie Dyers. Each booth full of yarn and fiber had a definite sense of color and style.
(Spyglass Lane pattern)
Indie Socks by Chrissy Gardiner is like taking home a souvenir from a favorite museum. Chrissy designed 24 socks that make the most of the "sensibilities" of the featured dyers. And, Chrissy's business partner, Donna Arney, wrote up profiles for each dyer. Oh, it is just so much fun!!
The book is structured around broad dyer styles with the assumption that you understand basic sock construction.
In the first section, Chrissy uses what she call Mild Yarns. Mild Yarn socks utilize semi-solid yarns in gentle colors. The patterns may be slightly more complex, because the nature of the colorways allows a bit more leeway in the stitch patterns.
(Calpurnia)
The Indie Designers in the Mild yarns section are —
Alpha B Yarn
Shalimar Yarns
Curious Creek Fibers
The Sweet Sheep
The Schaefer Yarn Co.
Miss Babs
Elemental Affects
Pico
Stitchjones
and Hazel Knits
The Flavorful Yarns section focuses on mild to moderately variegated yarns in light to medium shades, allowing some play with stitch patterns.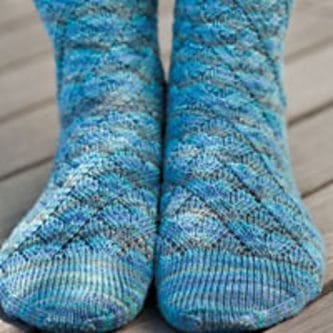 (Deux Tourbillions)
The Flavorful Yarns dyers are
Mountain Colors
Artyarns
Pagewood Farm
lavenderSheep
Creatively Dyed
Black Bunny Fibers
and The Unique Sheep.

(Owenburger)
Things get interesting in the Spicy Yarns section. These yarns are high-contrast and/or dark colored which tend to obscure stitch patterns and can really drive you crazy if you don't know a few tricks for handling them. This section has the most appealfor me because I'm drawn to high contrast or dark yarns.
(Pachinko)
The Spicy Yarn dyers are —
Abstract Fibers
Blue Moon Fiber Arts
CraftsMeow
Knitted Wit
Cephalopod Yarns
Blue Ridge Yarn
and Lorna's Laces
Chrissy's approach is an impressively clear method for understanding how to maximize the benefits of the full range of indie Dyers' colorways.

(Supernova)
The more I looked through Indie Socks, the more I felt like I was holding an incredibly dangerous book. When I'm at a show like Sock Summit or visiting a yarn shop, I have certain immediate restraints – financial or situational. But, Chrissy's designs are not only irresistable but she introduced me to new Indie Dyers. Just what I needed – tempting socks patterns and new sources for yarn treats. I don't know whether to thank Chrissy and Donna or beg them not to publish another book! In the meantime, I've got a lot of sock knitting and yarn shopping to do.