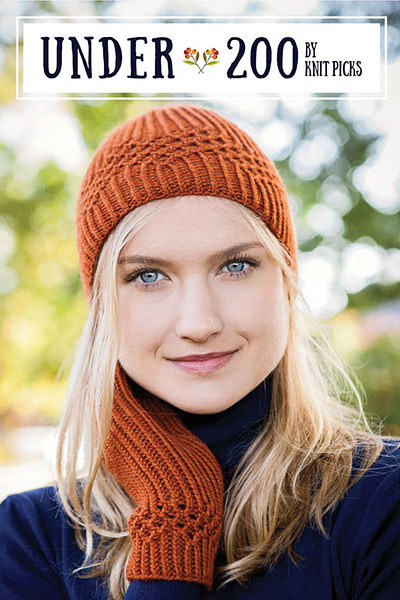 We are so ready for gift knitting season! Our newest collection, Under 200 features a range of stellar accessories that can be worked up quickly with under 200 grams of yarn. I thought I would showcase a few of my favorite projects from this essential collection as well as share some of the behind-the-scenes photos from our morning spent photographing in North Portland!
We arrived at Peninsula Park just as the sun was starting to rise over the trees and the rows of roses were absolutely stunning as the first rays highlighted that morning's dew throughout the garden. Nothing like a garden full of roses to add a touch of romance and whimsy to lovely knit accessories!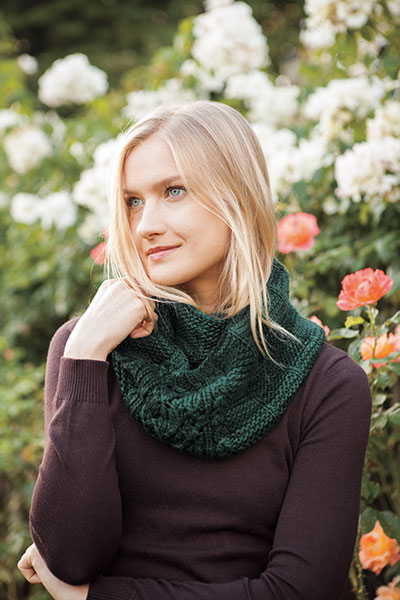 Our first project of the day was Quenna Lee's Double Leaf Cowl. The sweet lace leaf pattern was perfectly echoed in the wall of rose leaves behind our model. I love how the dark green Bonsai Preciosa Worsted pops in front of those petals!
Amy and I love to photograph our pattern collections in the very early morning hours or in the twilight before the sun goes down. Those golden hours give us such beautiful light and we're able to beat the crowds to some of our favorite locations around Portland, OR and Vancouver, WA.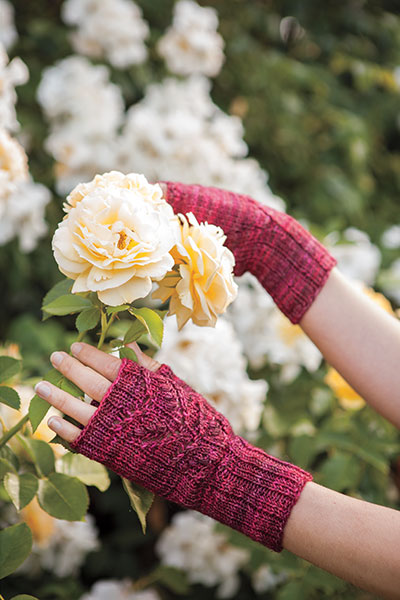 These Heart Lace Mitts, knit in Hawthorne Fingering Multi Rose City were perfectly at home in the rose garden. Hawthorne makes oh-so-durable mittens with just the right amount of warmth for those chilly shoulder-season mornings. I have a pair I wear every morning on my commute in to the office and this pattern has definitely been added to my queue for my next pair. There's just enough lace to make this project interesting without over complicating things too much and you'll be able to get more than one pair out of a skein!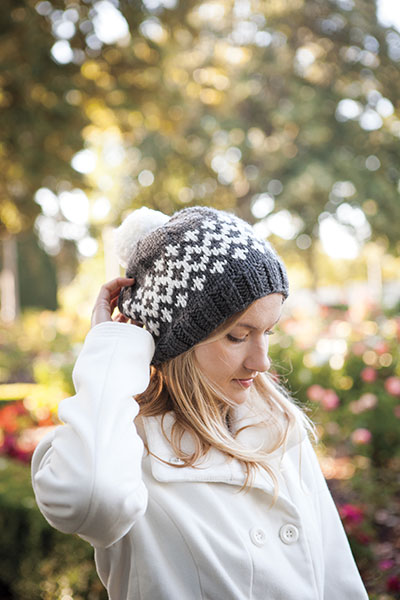 Lastly, the Arri Hat by Zabet Kempfert is knit with a bulky yarn (for instant gratification) and soft slouchiness (no hair mussing allowed!) for anyone on your gift list. Biggo is next-to-skin soft and makes the best pompoms ever!
Our day might have started before the sun was up but it ended with a beautiful sunny day and a park full of roses to enjoy. Portland continues to amaze me with gorgeous scenery, lovely parks and a seemingly neverending array of places to photograph our pattern collections. I love how these pictures and projects turned out! I know several have found their way onto my gift knitting list, have you found the perfect project too? Let us know in the comments!
Save
Save