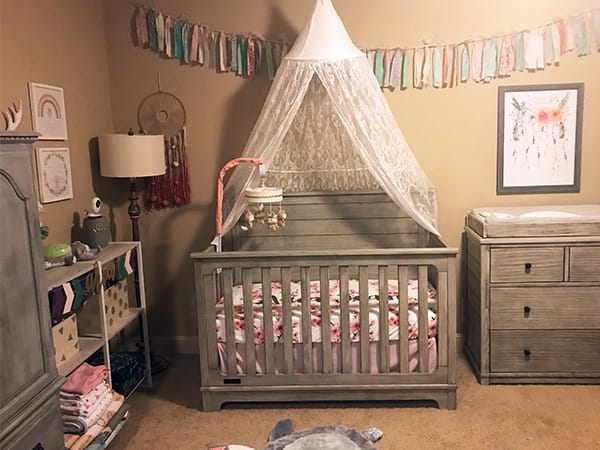 Oh Baby! In just 3 short weeks my husband and I will be welcoming home a new baby girl. My amazing coworkers at Knit Picks threw me a very sweet baby shower this past week, as well as my friends and family. We were showered with lots of amazing things for our little girl, but the ones that stuck out the most to us were the hand crafted gifts. I highly recommend these gifts if you're looking for something to make for an expecting mother-to-be. So here is my crafty Baby Shower Rewind for you all to enjoy!
Knit Picks Baby Shower Rewind
These adorable knitted socks and hat set were gifted to me by our Knit Picks Catalog Director Hannah. She also made the adorable little squirrel stuffed animal. The hat is newborn size so its something she will get to wear right away. The socks are amazing because seriously you can never have too many socks! I love that she picked more neutral colors, even though pink things are amazing, it's nice to break it up once in a while. I know she will be wearing these a lot! Once she has outgrown the hat I might even frame it for a keep sake to treasure.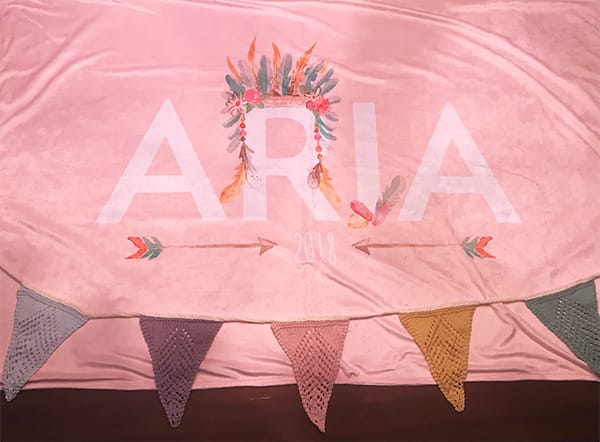 We will be naming her Aria so this graphic blanket was the perfect addition to our little girls room. It was designed by our Artist's Club Graphic Designer Hillary. She designed the perfect bohemian graphic for her and had it printed on the softest minky fabric. She even added a soft cotton flannel backing that was complete with arrows and flowers.
The Petit Jardin Bunting was gifted to me by our Knit Picks Outreach Director Stacey. The colors are the perfect palette for our bohemian nursery. Check out some of our other great bunting patterns like the Kite Bunting, Bitty Bunting String, and the Striped Triangle Bunting.
Friends & Family Baby Shower Rewind
My husbands grandmother gifted us this crocheted blanket, that was crocheted by her mother. My husbands late great grandmother was someone who was very close to him, and it's amazing that we can give this to our daughter. Handmade items like these are the best family heirlooms. When you lose someone special its amazing to have the things they made to keep their memory alive.
If you don't have time to crochet a whole blanket, I think this is a beautiful alternative. The lacey edges give you the heirloom crocheted look, and the soft minky fabric makes it light weight and snuggly.  This blanket was given to us by my mother. She cut the fabric to size, punched small holes around the edges with an owl, and washed and dried the fabric so it wouldn't shed. She then crocheted her favorite edging through the loops.
It is truly amazing the amount of creative effort that went into these gifts for our baby. She is one lucky girl to have so many loving and thoughtful people in her life already. These handmade items will stay with her forever, and I know I will cherish them for years to come. I highly suggest you make something for the next baby shower you are invited to. It's sure to be a big hit!